The First Minister has said she hopes a new £350 million harbour expansion will support around 2,500 jobs by 2025.
Nicola Sturgeon joined project bosses for a tour of the site at Nigg Bay yesterday, as it was announced Scottish Enterprise will contribute £11.7 million towards the development, which will boost facilities for the oil industry and serve cruise ships large enough to carry up to 3,000 passengers.
The cash will be added to £175m already lent by the European Investment Bank and £11 million invested by Aberdeen and Aberdeenshire councils through the Aberdeen City Region Deal.
Speaking to the Evening Express at the harbour, the First Minister said the development was hugely important for the economy of Aberdeen and the North-east – and she was already thinking about how it will look when completed.
Ms Sturgeon said: "I'm very much looking forward to coming back here and seeing the finished article.
"This harbour expansion will be complete by 2020 and the ambition is that this new infrastructure here will support perhaps 2,500 jobs by the middle of the next decade."
Ms Sturgeon added: "It will make sure that Aberdeen can continue to service the success of the oil and gas sector, but also take advantage of decommissioning opportunities, the opportunities in renewable energy.
"And, of course, there are big ambitions to see big cruise ships here as well.
"You already see cruise ships come into Aberdeen but having this expansion will allow much bigger cruise ships to access Aberdeen.
"We're talking ships that will bring 2,000 or 3,000 passengers at a time – that is potentially massive for the economy of the North-east.
"It's undoubtedly one of the biggest and most important infrastructure developments for Aberdeen and the North-east we've seen in recent times."
Aberdeen Harbour Board chief executive Colin Parker said: "The funding is a very welcome announcement by the Scottish Government.
"I actually flew into Aberdeen today and looked out the window, and was absolutely delighted to see the work going on seven years down the line from when we started."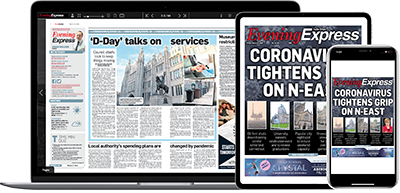 Help support quality local journalism … become a digital subscriber to the Evening Express
For as little as £5.99 a month you can access all of our content, including Premium articles.
Subscribe