Aberdeen bus drivers say they've had a great response from the public as the first day of industrial action began.
Around 50 drivers gathered outside the First Bus depot on King Street to picket new terms and conditions.
Motorists were honking in support of the bus drivers in the cold and rainy conditions.
Mike Flinn, convener for First Bus drivers at Unite, said: "We have been here since 3am starting at the union office before heading here at 4am.
"We have had a fantastic reaction.
"A lot of the buses haven't gone out as there isn't a lot of management to do the drives, so it is basic routes this morning.
"It has been successful in that way as the yard should be empty at this time of day.
"Management have asked for a meeting with us at 1pm, we have managed to get them round the table after taking the action.
"We will wait and see what they have to say."
Andrew Jarvis, managing director for First Aberdeen, said:" I am disappointed, that despite holding two further meetings yesterday with Unite representatives and offering additional enhancements to the original proposals relating to rates of pay and shift pattern work, Unite have taken the decision to continue with industrial action today, Friday 16th March.
"I would again like to apologise to all our customers for the inconvenience this action may have on their travel plans, but can assure everyone, we will work with our union colleagues to find a solution to move the business forward."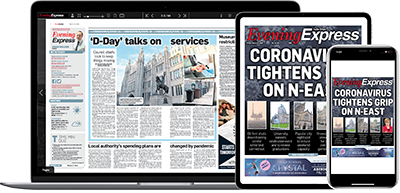 Help support quality local journalism … become a digital subscriber to the Evening Express
For as little as £5.99 a month you can access all of our content, including Premium articles.
Subscribe