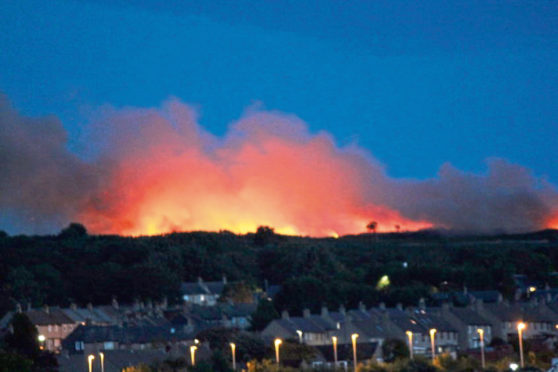 Firefighters spent more than 80 hours at the scene of a series of wildfires that blighted Aberdeen, the Evening Express can reveal.
New figures show firefighters were sent to the Gramps nature reserve on Kincorth Hill 38 times in 22 days in September – and illustrate the level of care Scottish Fire and Rescue Service (SFRS) staff showed in stopping the blazes getting under control.
The call-outs were all between September 7 and September 29 – and some of the fires were so large, billowing smoke could be seen coming from the Gramps across the city.
Under Freedom of Information laws, the Evening Express obtained from SFRS details of the resources deployed to each incident.
All the incidents were wildfires – incidents where fires break out in gorse, broom or wild scrub.
SFRS said 15 were attended by a single appliance staffed by a crew of up to six firefighters.
The other incidents were dealt with by up to eight appliances – including specialist equipment designed to tackle wildfires.
The data shows that, when the amount of time the appliance that stayed longest for each incident is totted up, the total of time spent there was 80 hours and 57 minutes.
In wildfires, flames can be covered by grass or moss and grow larger hours after the land has been doused in water.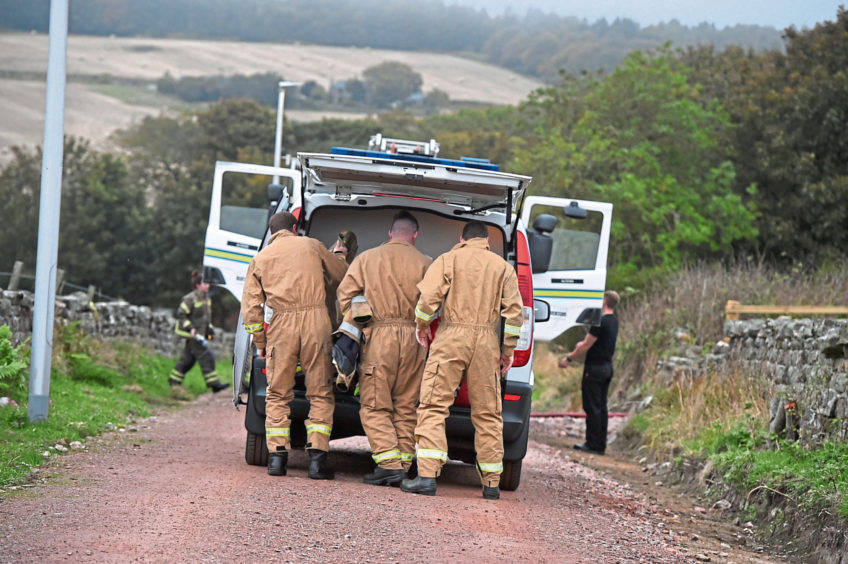 On September 15, a fire crew arrived at the scene to tackle a fire at just after 10.15am and stayed for more than seven hours to ensure the fire was out.
In September, police said they were keeping an open mind as to whether some of the fires had been started deliberately.
Figures show that, when the first report came in at just after 12.30pm on September 7, it was treated as a rubbish fire.
One fire crew attended and stayed for 18 minutes.
Just four hours later, five appliances were sent there and stayed 90 minutes – only for yet another blaze to break out there before the end of that day.
The most turn-outs in a single day came on September 14, when there were five fires at the Gramps between 11am and 8pm.
Eleven appliances spent a total of seven hours at the scene on that day.
Strong winds from Storm Ali helped restart the fire on September 19 and a crew attended at just after 11am.
Resources firefighters used on the call-outs included high-pressure water hoses, wildfire beaters and knapsacks, which contain water and can be carried on fire officers' backs, allowing them to tackle fires away from appliances.
On one occasion – September 13 – they also used a 10.5m ladder to tackle a blaze from above.
---
---
The Gramps are home to wildlife such as fox and roe deer.
The Scottish Fire and Rescue Service's Aberdeen group manager Darren Riddell said there was a large number of wildfires within a relatively short space of time "and these can have a significant impact not only on the lives of local people but on our wildlife and our environment".
"There are numerous sites of historical importance on the Gramps so it's imperative that we work together to protect such areas," he added.
Mr Riddell thanked Police Scotland for supporting firefighters.
He added: "I would like to thank our partners and indeed our firefighters for their efforts throughout these incidents.
"It was a serious combined effort."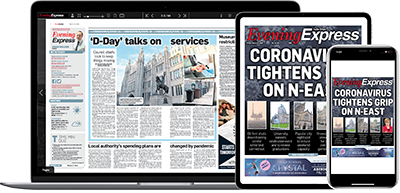 Help support quality local journalism … become a digital subscriber to the Evening Express
For as little as £5.99 a month you can access all of our content, including Premium articles.
Subscribe