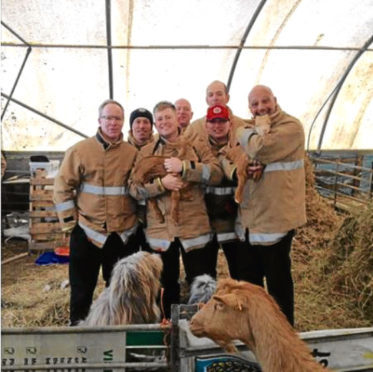 Firefighters took part in a training exercise with a difference at an Aberdeen farm.
The team from Altens Fire station were at Doonies Rare Breed farm, learning how to deal with livestock in emergencies.
The farm's assistant manager Alice Lennox conducted the session, which was also intended to help the crew respond to a possible emergency at Doonies.
And while there the team members met twin baby goats Rabbie and Tam – who were born on Burns Day.
The pair stole the show with some of the team taking time out afterwards to pose for pictures with them.
Alice showed the firefighters around the farm, taking them to the lambing tunnels where they were given instructions on how to extract livestock from buildings.
She said: "They come every year just to do livestock training, in the event of any fires. It's extremely important that we do this.
"It's great that the teams from Aberdeen come and see us because they're keen to learn.
"The fire brigade are really valuable, especially for more rural farms that don't have easy access to them. If they get called out to an area like that, then we can help them a bit with knowledge or safety."
Crew manager Steve Williams said: "It's really important to do this. We have different training every month, and we try to focus on the risks that are in our area.
"We have a broad spectrum of incidents that we respond to. All the training that we do is important.
"As well as going through the training it's also a chance for us to familiarise ourselves with that area, so if there is a fire at Doonies then we would know the layout of the building. It makes us more efficient in doing our job."
Doonies Rare Breed farm will be open to the public again after its winter closure on April 2.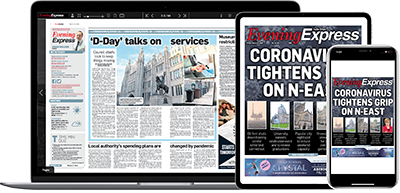 Help support quality local journalism … become a digital subscriber to the Evening Express
For as little as £5.99 a month you can access all of our content, including Premium articles.
Subscribe