Environmentalists are hoping people will go wild for a new video.
Produced on behalf of the North East Scotland Biodiversity Partnership, the film – which features the work of acclaimed wildlife photographer Pete Cairns – showcases the beauty of the region's natural surroundings.
The partnership's aim is to make people care about conservation and take action to protect the environment.
The video, Wild North-east – Scotland's Natural Gem, had its premiere at the James Hutton Institute in Aberdeen.
It features scenery from across the region, as well as animals from dolphins and humpback whales to eagles, otters, mountain hares and capercaillies.
The project had support from Aberdeen City Council, Aberdeenshire Council, Outdoor Woodland Learning Scotland, Forestry Commission Scotland, Scottish Natural Heritage and the James Hutton Institute.
Rose Toney, the partnership's co-ordinator, said: "One of the greatest challenges we face in conservation is the ability to make people care … care enough to bring about change, care enough to take action and care enough to protect and enhance what we have.
"The idea behind the video was to show what an incredibly, beautiful natural environment residents and visitors can enjoy in North-east Scotland and that everyone can, and should, do something to help safeguard it for the future.
"Pete Cairns and his team, at Scotland: The Big Picture, have done an amazing job highlighting the beauty of the North-east and I have to admit, when I first saw the video, it took my breath away – we are so privileged to have such amazing biodiversity on our doorstep."
The idea for the video came from Douglas Gooday, a ranger with Aberdeenshire Council Ranger Service.
He said: "I'm very privileged to spend a lot of time in the many wild places we have in Aberdeenshire, from the Cairngorms to the coast.
"I hope this short film inspires others to enjoy these wild places as well, to understand about the services nature provides and the importance of caring for the natural environment for the benefit of ourselves and future generations."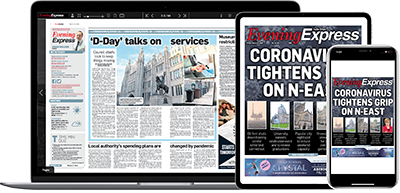 Help support quality local journalism … become a digital subscriber to the Evening Express
For as little as £5.99 a month you can access all of our content, including Premium articles.
Subscribe