Festive village fun for Aberdeen community groups
Festive spirit was in the air at Aberdeen Christmas Village as community groups, schools and charities joined the party.
The Community Festive Fun Day at the village is now in its fourth year and enables groups to enjoy the attractions on Broad Street and Upperkirkgate in a relaxed atmosphere.
Schools across the city, along with a range of charities including NESS, Befriend a Child, Children 1st, Alcohol and Drugs Action (ADA) and Aberdeen Lads Club flocked to the winter wonderland.
They were treated to rides, ice-skating, free snacks and a soft drink in The Moose, where a disco took place all day.
Adrian Watson, chief executive of Aberdeen Inspired, said: "It has been fantastic to see so many groups come together and enjoy the Community Festive Fun Day.
"This is an inclusive event we have been proud to host each year. We received a great response from a wide range of community and third-sector groups across the north-east and we've loved seeing everyone getting into the festive spirit.
"The village is at the heart of our Christmas celebrations this year and the community element to the Festive Fun Day really is what it is all about."
The Lord Provost of Aberdeen, Barney Crockett, said: "It's wonderful to see everyone come together to enjoy the village and to see so many having fun."
The Aberdeen Lads Club has been to each Festive Fun Day.
General manager Angie Johnston said: "It is important our children are able to interact in community events and participate in extra-curricular activities that may not be in every family's financial means and this funded community event makes this possible for our children."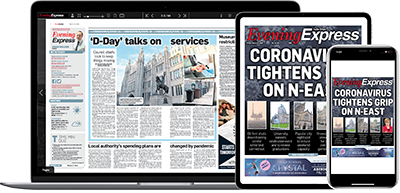 Help support quality local journalism … become a digital subscriber to the Evening Express
For as little as £5.99 a month you can access all of our content, including Premium articles.
Subscribe