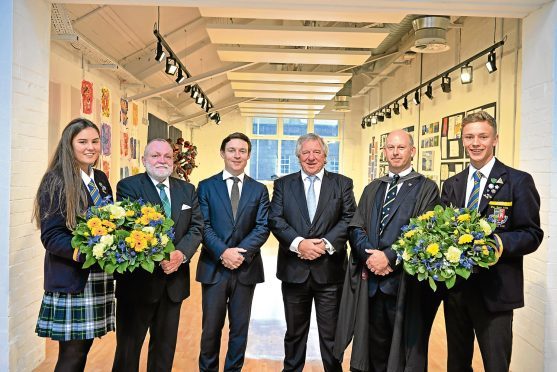 An Aberdeen school has celebrated its annual Founder's Day event with a father and son team for the first time.
The community of Robert Gordon's College marked the day by inviting award-winning chief executive officer Martin Gilbert, Class of '73, and son Jamie, Class of '04, to deliver the speeches.
Martin Gilbert, co-CEO of Standard Life Aberdeen PLC, returned to Aberdeen yesterday to speak to S2-S6 pupils about his career which has this year seen him merge Aberdeen Asset Management with Standard Life.
Martin said: "My advice would be to not fear failure and build a good network of people that support you. Embrace every opportunity to make the most of what is available to you.
"All these experiences helped me develop the skills which are essential in supporting your overall success."
Simon Mills, head of Robert Gordon's College, said: "We have been privileged to hear Martin and Jamie Gilbert share their significant experiences both in school and beyond with the current pupils.
"Founder's Day is a wonderful opportunity to unite and inspire the next generation while remembering the mission set out by Robert Gordon encouraging our pupils to be the best they can be."