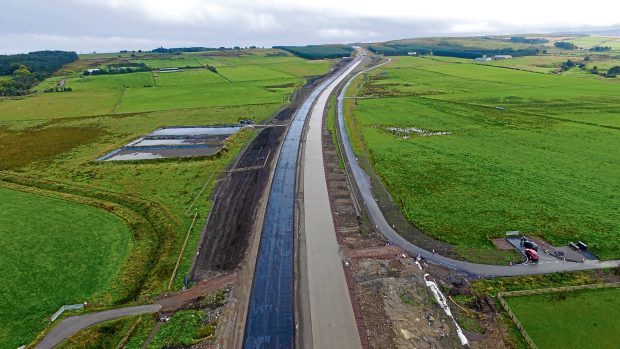 A farmer who was left furious after his sheep were stranded because of bypass works has met transport bosses to try to solve the problem.
Angus McNicoll, who owns Blaikiewell Farm at Blairs, has struggled to access his farmland after the dual carriageway split it in half.
The 62-year-old has now had discussions with representatives from Transport Scotland and AWPR managers after finding a concrete crash barrier had been built along the bypass, making it difficult to access the farm's animals.
Mr McNicoll is happy with access to his land to the west of the road, but can currently only access the east side by crossing the AWPR.
However, when that means of access is no longer available, he will have to use a new entrance to the east side, which he claims will not to be suitable.
He said: "My farm has been split in two. The access road to the west of the farm is fine and I am happy with that, but the east side is a problem.
"The proposed east road will run into a bog which will be unsuitable and also the road, I believe, won't be able to carry farm vehicles."
Mr McNicoll raised a number of issues with the AWPR bosses during the meeting, including damage to a fence on his land.
He said: "The AWPR vehicles drive close to the perimeter of the farm and they have damaged my fence. Around 80m has been damaged. I have asked them to pay for the fence through compensation, but they told me to get it fixed then bill them. I am not keen on that as it will cost around £600 to fix."
Mr McNicoll is still behind the construction as he feels it will alleviate congestion in the area, but he feels the build needed to be better planned.
"I am fully behind the AWPR, but I just feel some of the decisions they have made and the way they have treated some people is just wrong," he added.
"I would like to see better co-operation from the AWPR team, if that happened then I think people would accept the project much more."
A Transport Scotland spokesman said: "The contractor, Aberdeen Roads Limited, is committed to working with the landowner to address any concerns.
"They have started work to the central reservation barrier next to the temporary access track currently provided for Blaikiewell Farm, but say access to the adjacent fields has not been impeded as there is a gap in the concrete barrier which will remain in place until such time as an alternative access route is created."