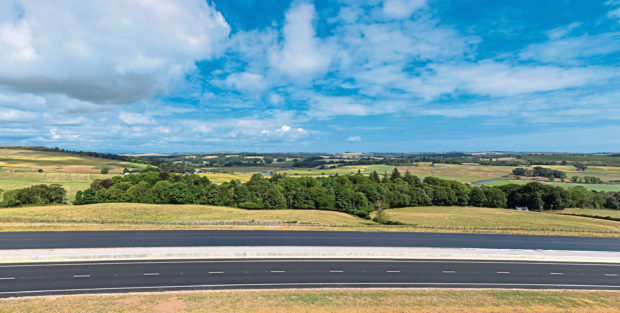 A world-renowned Scottish photographer is to tour the north-east with his AWPR exhibition.
Library visitors in Aberdeen, Stonehaven and Ellon will get access to a specially-commissioned set of AWPR-themed landscape shots by lauded Scottish landscape photographer Colin Prior.
The 12 photographs, taken at various stages during the project's final months of construction, will be on display over nine weeks from late May until late July.
The New Perspectives exhibition will highlight the various new vistas opened up by the 36-mile route.
Colin said: "Photographing a construction project of this scale is challenging, so I was pleased to be the first photographer to be given access to closed sections of the route while work was ongoing.
"The vistas and scenery surrounding the project have made for some special photos which I think capture some of the 'New Perspectives' afforded to the north-east because of the project's development.
"These images demonstrate the significance and scale of the AWPR and also the beauty of the surrounding landscapes in the area and I hope the people from across the north-east get the chance to enjoy them."
The exhibition is the final part of the GoNorthEast campaign, launched last summer by project partners Transport Scotland, Aberdeen City Council and Aberdeenshire Council to highlight the benefits the road will bring.
Douglas Laird, Transport Scotland's AWPR project manager, said: "The GoNorthEast campaign has been a successful way of focusing attention on the many economic, environmental and safety benefits the AWPR brings.
"While the construction period was inevitably disruptive for some, it was important to remind people that a significant prize was within reach for the region.
"Bringing a photographer of the stature and unique eye of Colin Prior on board was inspired by the new views of the region the project team were seeing out on site and the sympathetic way the road has been designed to harmonise with the environment as much as possible.
"We were excited for the people of the north-east to see these new perspectives, as well as witnessing the new ways of doing business and quality of life the new road brings."
The £745 million project finally opened to drivers in February after being dogged by a series of delays and contractual problems.
Transport Scotland missed its "late autumn" target date and a later aspiration of January due to work repairing defects on the new River Don bridge after cracks were discovered.
The exhibition will be free to view at Aberdeen Central Library from Tuesday May 21 to Friday June 7, Ellon Library from Monday June 10 to Friday June 28 and Stonehaven Library from Monday July 1 to Friday July 19.
The event will be previewed at an invite-only business and economy event expected to be attended by First Minister Nicola Sturgeon and leading figures from the region's business community in late May.