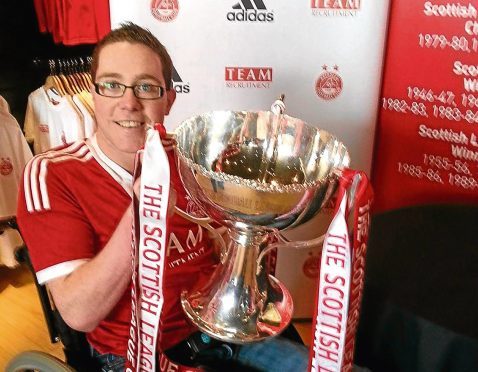 A family today paid tribute to a young man who never stopped living life to the fullest despite battling a lifelong condition.
As a youngster, Steven Oliver was diagnosed with an illness that causes progressive damage to the nervous system.
Despite being in a wheelchair from the age of 14, Steven's mum Yvonne said it never stopped him from doing the things he loved, which included going to concerts, clubbing, watching wrestling – and especially seeing his beloved Dons play.
The 59-year-old said: "He never really saw himself as disabled and wanted to do the same as everyone else. He went to T in the Park six times and loved music – he had a very eclectic taste.
"On his walls are tickets from all the shows he went to at the AECC, including Biffy Clyro, Girls Aloud, Oasis and Katy Perry.
"He loved going to see comedians too like Lee Bridges and Russell Howard."
Yvonne said Steven, 31, of Oldmeldrum, would often be seen out and about in town clubbing with his friends until the early hours or at the casino.
She added: "He would often go down to Newcastle partying with friends. Steven had a great group of friends, and was friends with his cousins as well – they were really close.
"He was friends with people from school, people who worked with him, who met him on nights out – once seen he was never forgotten."
Former Inverurie Academy pupil, Steven obtained a degree in Computing for Business and eCommerce from Robert Gordon University in 2007, and in 2014 he graduated from North East Scotland College with an HND Accounting.
Sadly Steven's health deteriorated after suffering a stroke and heart failure.
And although he was too ill to work, determined, he instead focused on volunteering.
He would help at the North East Scottish Credit Union in Torry and the Suttie Centre at Aberdeen Royal Infirmary.
But, Steven's true passion was the Dons, and he would regularly attend home and away games.
His sister Joanne, 24, said: "He had seats at the Richard Donald stand and always used to wear a white beanie hat.
"People would always recognise him on TV."
Dad James added: "Steven had a season ticket and went to the last three cup finals.
"We went down to the last two with him."
Steven was taken into hospital for what was expected to be a short stay, but his condition deteriorated and sadly he lost his battle with Friedreich's ataxia last week.
Yvonne said: "We thought he was just going to hospital for a couple of days. If he had been in an ambulance and in the high dependency unit we might have thought differently.
"It came as a bit of a shock."
James, 61, said everyone was "incredibly proud" of Steven.
He said: "I think the thing people always say about Steven is that he had so many friends who supported him – he was everyone's friend.
"He was so determined, very positive and very brave in the way he dealt with it."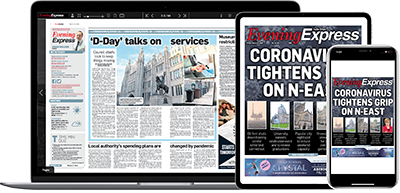 Help support quality local journalism … become a digital subscriber to the Evening Express
For as little as £5.99 a month you can access all of our content, including Premium articles.
Subscribe