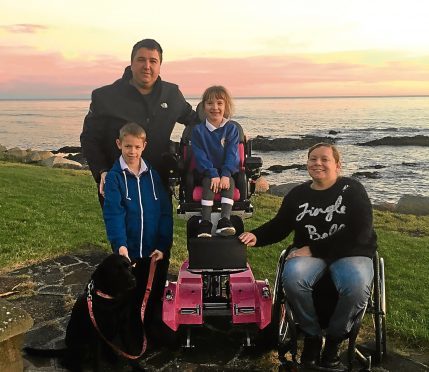 A North-east couple have expressed their thanks after family and friends helped raise more than £30,000 to buy a new wheelchair for their five-year-old daughter.
The Townhill family, of Johnshaven, have now reached their target after 17 months of fundraising for a specially powered and height-adjustable wheelchair called a Wizzybug.
Stuart, 36, and 37-year-old Allyson's children Roy, 8, and Lucy were both diagnosed with a rare degenerative neuromuscular condition called Spinal Muscular Atrophy (SMA) Type 3 following years of diagnostic tests.
SMA attacks the nerve cells that run from the spinal cord to the muscles and its effects vary from person to person, but unfortunately for Lucy it means she cannot walk safely outside of the family home.
With the family facing a bill of £23,500 for a new powered-wheelchair and £5,000 for an accompanying docking station, neighbours and friends rallied round to organise a sponsored cycle from Dumbarton to Johnshaven over the course of three days in April.
The cycle, which finished with a party thrown by other village residents, raised £14,217. However, the whole fundraising effort raised £30,261.
Stuart said his mum Sue Manson also helped with the fundraising efforts.
He added Sue, of Newtonhill, had been an "amazing support".
He said: "There have been so many kind and generous donations. To cover everyone, we would like to make sure we have a big general thank you for all the support."
He added it was a "big relief" for the family after dealing with "everything that comes with living with the condition".
He said: "It was an emotional moment to see all that support from our friends and co-workers who showed up for the cycle. We were amazed to get the total money raised."
He also expressed his thanks to his neighbours Shirley and George Stewart for organising the cycle.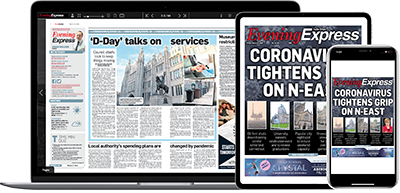 Help support quality local journalism … become a digital subscriber to the Evening Express
For as little as £5.99 a month you can access all of our content, including Premium articles.
Subscribe