Extra £400,000 needed to repair historic Cambus O'May bridge
A historic north-east bridge damaged by Storm Frank could cost £400,000 to repair.
In total more than £1 million has been spent on fixing bridges in the north-east damaged by the storm.
The 14 most damaged bridges were closed for the public's safety after the severe flooding experienced across the region in December 2015.
The majority of the footbridges were reopened within months of the storm, however a number required significant repairs.
One of the 14 crossings still to reopen – but with "no timescale" to begin work – is the B-listed iron suspension bridge at Cambus O'May.
With a repair price tag of up to £400,000, it will not be fixed in the near future.
Other bridges yet to reopen include Shattenweg near Rothienorman, which did not reopen until February 2017, Roo-Emah near Fyvie, which reopened in April 2018, and Polhollick near Ballater, which was closed until December.
Upper Deeside councillor Peter Argyle, who is also the chairman of Aberdeenshire Council's infrastructure services committee, said the authority is "determined" to restore the historic river crossing to its former glory.
It was built in 1905 and reopened by Queen Elizabeth, the Queen Mother, in 1988 following a refurbishment programme.
Mr Argyle said: "There's a close similarity between Polhollick bridge and the one at Cambus O'May, as they're both cast iron suspension structures of a similar vintage.
"Our bridge teams learned a lot from the repair of Polhollick, but Cambus O' May is in a much worse state as the damage was much more severe. It's actually unbelievable to think back on just how bad the storm was."
He added: "What the council is doing at the moment is applying the same approach taken at Polhollick to Cambus O'May with a view of getting it repaired. The problem is one of money.
"It's expected to cost around £400,000 to repair, which we don't have sitting around in the bank.
"Our finance people are looking at ways of getting money to pay for it, and at the same time our bridge teams are assessing the best approach for repairs."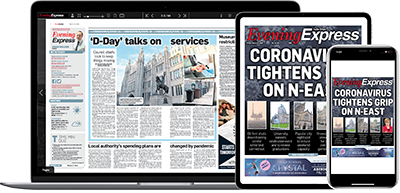 Help support quality local journalism … become a digital subscriber to the Evening Express
For as little as £5.99 a month you can access all of our content, including Premium articles.
Subscribe