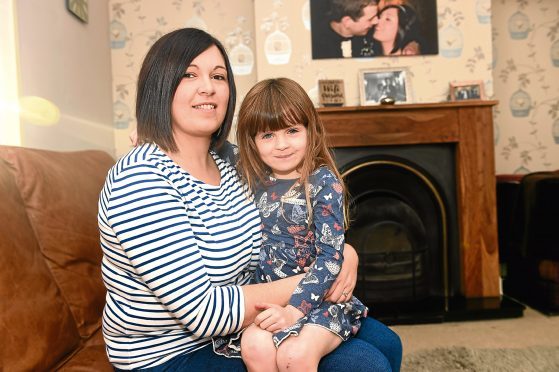 A mum-of-two is hoping to raise awareness of an eye disease after her little girl was diagnosed with a rare condition – which can be spotted in photos.
Lynne Harper, from Fyvie, took her seven-year-old son Jake and daughter Eva, 4, to the optician in May after Jake had minor issues with his eye.
She decided to get Eva checked out too while she was there, and discovered that when covering her "good eye", she wasn't able to make out even the biggest pictures she was shown.
Lynne said: "We did a health check at the back of the eye and it said she's got a detached retina and she had to get it checked out.
"We thought it might be retinoblastoma. We sat for hours waiting for all these different tests and they were a bit more confident that it wasn't a tumour. Her consultant did mention Coats' disease at that point."
Eva was diagnosed with the disease earlier this year, at three years old.
Her dad has since been taking her to visit a specialist in Birmingham for laser treatment to prevent further deterioration.
Coats' disease causes blood vessels in the retina – a thin layer of tissue at the back of the eye – to grow weak and leak fluid and blood, which means that the cells of that part of the eye can't work properly, thus affecting sight.
Eva can only see a bit of light out of her left eye due to the disease, although the vision in her right eye is perfect.
One of the symptoms of Coats' disease is that the affected eyes will show up yellow in flash photography, which Lynne and her husband Kyle first noticed when Eva was only two.
The 32-year-old said: "We'd seen three pictures where she's had a yellow eye in the flash – it's supposed to be red.
"We'd kind of forgotten about the last one by the time the next one was taken.
"You just presume that it's a problem with the camera. In hindsight I just should have got it checked out.
"Our consultant has said he's only seen one other patient with Coats' disease in the area.
"If I hadn't taken her for a routine eye check-up I don't know what she'd be like now.
"If it goes too far it could result in glaucoma. If it ever goes that far she might have to have her eye removed completely."
Coats' disease doesn't greatly impact Eva's daily life because the sight in her right eye seems to have strengthened to counteract the loss of sight in the left.
Lynne said: "Because we've looked back on photos, we first noticed it when she was two, so we think she's had it since then.
"She's not any more clumsy than any other children, but her perception is different.
"Her peripheral vision does kind of worry us until she's old enough to know to properly look for cars before crossing the road.
"We don't treat her any differently, we're just going to have to watch her and keep up with regular checks."
She hopes that raising awareness about Eva's diagnosis will encourage more people to get their children's eyes checked out. "We didn't have a clue what to look out for," Lynne added.
"There are apparently 20 different conditions you can have, and children can't tell you when something's wrong.
"The earlier you get them checked the better, but unfortunately it's too late for Eva. We were so lucky that it wasn't retinoblastoma. It was a huge relief, it could be a lot worse.
"That's why I'd like to spread the awareness so people don't end up with cancer of the eye.
"Now all my friends have made appointments, it's been quite good that they've all taken notice."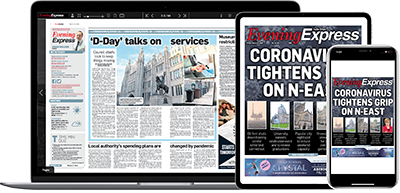 Help support quality local journalism … become a digital subscriber to the Evening Express
For as little as £5.99 a month you can access all of our content, including Premium articles.
Subscribe