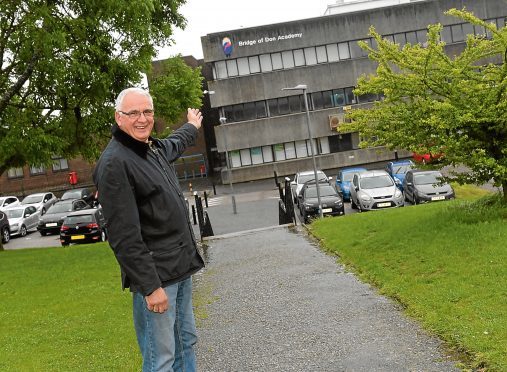 A school janitor has hung up his brush and spanners after nearly 40 years of service at a city school.
David Chesser, 67, started working at Bridge of Don Academy in 1979 – when the school first opened its doors.
George Polson, David's former colleague and janitor at the academy, said: "It's sad to see him go and I'm still waiting for him to walk in the door at the school.
"Thirty-eight years is unheard of and it shows what a loyal and hard worker David is – the guy deserves applause."
David said: "Last year, I started thinking about retiring and it's difficult to come to the decision.
"But you ask yourself: 'How long do you carry on working?'"
David came across the job when he was 29 and looking for work in security – and he fell in love with the role.
He added: "I like to try and keep a good relationship with the staff and students.
"And I'll certainly miss the place, the people, the environment, but I think it was time to go."
Over the years, David has seen many changes in trends from the pupils that walk through the doors of Bridge of Don Academy.
David has seen the obsessions with trading cards to fidget spinners to the increasing use of mobile phones.
He said: "During lunchtime you just see the students on their phones.
"One head teacher tried to put a stop to it and tried to get the students to talk to each other."
But the biggest change, the retired janitor said he has seen over the years, has been the change in students' attitudes.
He added: "Students now are a lot more laid back and not as disciplined.
"They're a lot more confident and not as afraid.
"Maybe it had to do with young people getting more chances to voice their opinions."
One of his fondest memories is of a prank by a group of senior pupils more than 10 years ago.
He said: "It was after exams, for the senior muck-up day, and early that morning I get a call to take a look at the huts.
"I take a look and I see that six classroom huts were painted bright pink."
David is looking forward to his retirement. He plans to spend more time with his family and enjoy the upcoming Rangers season.