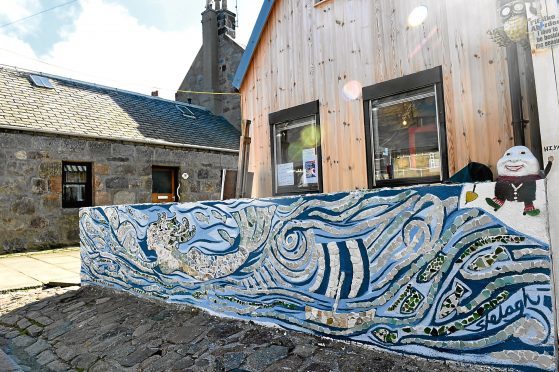 A mosaic which started as a community project has seen people from all over the world take part.
In April, artist Shelagh Swanson appealed to the public to help her decorate the walls outside her studio in Footdee with pieces of ceramic, pottery and sea glass collected from the surrounding beach.
The 35-year-old came up with the idea after she moved into her studio and was struck by how plain and boring the walls outside were.
Posting on her Facebook page, the appeal for help was liked hundreds of times within the space of a few hours.
After receiving a huge amount of support in the collection stage, Shelagh then invited the community to stop by to help use all the materials to put the art piece together, allowing them to continue to be involved until the end of the project.
She said: "The support was incredible. I thought I could paint something meaningful, but I thought I'd do something that makes people smile and gets them involved.
"Every day I'd hear this little tinkle of glass – people were just really engaging with it."
After the collection of materials was so popular, she decided to invite the public to help put the mosaic together as well.
From July 24-29 children and adults alike visited the studio walls to leave their mark.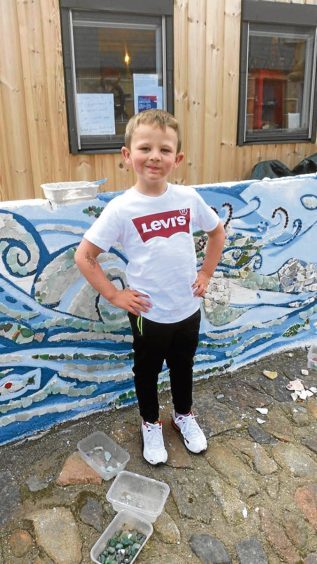 In fact the project was so popular that people from all over the world came to help put the mosaic together, with visitors from as far away as the USA, Peru, Mexico, China, India, Spain, Italy and Poland lending a hand.
With the wall now complete, Shelagh said she was delighted with the community involvement.
It depicts an underwater scene, with a mermaid, waves, a boat and fish – fitting into the character of the surrounding area of Footdee.
She said: "People were just really engaging with it. Families were getting together to help out and collect the material, it was really nice to see that.
"We found some beautiful things. Children would see something that would spark their imagination and pick it up to add to the wall.
"I made sure to ask everyone where they found out about it. People were just delighted that they could leave their mark on Footdee – we had a really nice experience.
"I closed the gallery a year ago and I've never been busier. It's lovely to have these opportunities.
"It was a completely free project and you never know who's going to help out. I felt really close to it."
Not stopping there, however, Shelagh's next project will see her transform the wall outside the Education Room at Duthie Park into a beautiful mosaic for the rest of August and September.
Continuing the community spirit, her new work will see her being helped out by pupils from three schools, as well as Alzheimer Scotland.
Delighted with the support of artistic projects in the city, she said: "There's a nice artistic community. There's a really different air in the city now – people see the potential in the projects. They want to know about them and they want to get involved."
Visits to her studio are by appointment only, but she will be taking part in the North East Open Studios in September.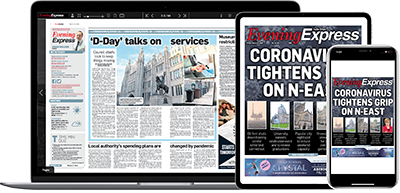 Help support quality local journalism … become a digital subscriber to the Evening Express
For as little as £5.99 a month you can access all of our content, including Premium articles.
Subscribe