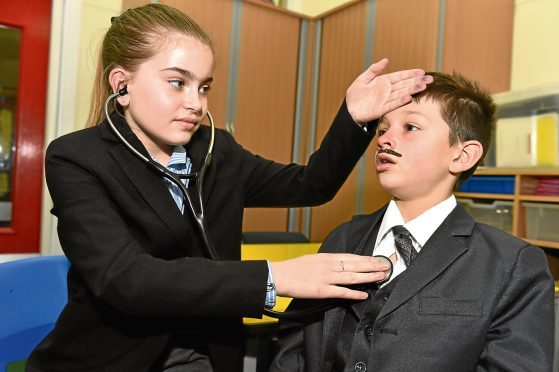 Health officials in the North-east have urged members of the public to self-treat any flu-like symptoms before visiting their GP.
It comes after a wave of influenza cases have been reported across the country.
NHS Grampian officials today insisted the situation in the North-east is under control and have urged the public not to add to any unnecessary strain on local hospitals.
A new video campaign, featuring local schoolchildren, has also been launched by the region's health authority to inform the public that antibiotics are not required to treat common winter illnesses such as viral coughs, colds and flu.
The video forms part of the Know Who To Turn To campaign and will be advertised on social media and television.
Eight youngsters from Broomhill Primary School took on the roles of patients, a receptionist and a doctor to help convey the message.
The 30-second film shows one of the youngsters speaking to a doctor in Doric, before being told antibiotics will not help with a sore throat. He is told to rest at home, drink plenty of fluids and consult the Know Who To Turn To website for support.
Dr Stephen Lynch, clinical director of Aberdeen City Health and Social Care Partnership, said: "Our message is to stress that for people with simple winter conditions such as coughs, colds and the flu, antibiotics won't help. These conditions are best treated with plenty of rest, paracetamol and making sure to drink plenty of fluids.
"We still see some patients going straight to their doctors looking for antibiotics when they shouldn't be contacting their doctors the instant they fall ill."
Antibiotics won't help simple winter conditions
He added: "I would encourage people to visit the Know Who To Turn To website. It's very useful and has a lot of information for patients.
"A normal fit, healthy adult with the flu can manage on their own.
"However, if you are over 65, pregnant or have a pre-existing condition, please do contact your GP.
"It's also not too late to get your flu vaccine and I would encourage anyone applicable to get this arranged."
A spokeswoman for NHS Grampian added: "We'd like to remind people who are feeling unwell to do the responsible thing and not visit friends or relatives in hospital.
"People in hospital are vulnerable and illnesses such as flu or norovirus are very easily spread.
"The vaccine is available free to the over-65s, primary school children, anyone with a long term condition (such as asthma), pregnant women and all health and social care staff.
"We would strongly encourage people in these groups to make an appointment and get their flu jab."
Watch: NHS Grampian issues warning of danger whole grapes pose to small children
Dr Jamie Hogg, divisional clinical director for Dr Gray's Hospital in Elgin, said: "This year is worse than it has been in previous years.
"There are more flu cases around but it's far from an epidemic, it's just a slight increase. More people are coming to hospitals with flu-like symptoms but they don't all have the flu."
Dr Hogg said the Know Who To Turn To campaign is a great resource for members of the public.
There's been a rise but its no cause for concern
He added: "NHS Grampian is well ahead in this way. The Know Who To Turn To campaign is excellent. It has some really helpful information for people.
"Most people who are fit will be able manage the flu themselves.
"They'll feel rotten for a bit but can get by with making sure they drink plenty of fluids and rest enough.
"It's generally self-treatable.
"Essentially, there's been a rise but it's nothing to be concerned about."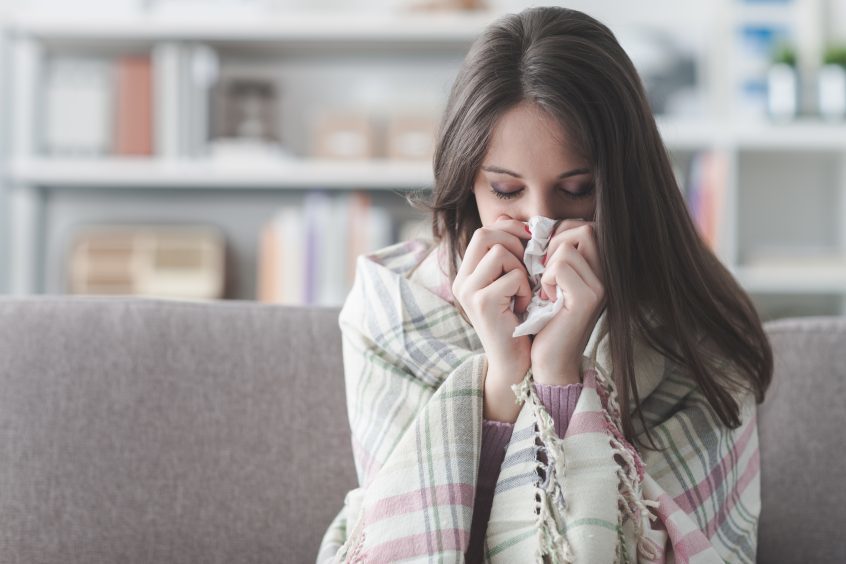 Dr Hogg also spoke of the strain the current flu outbreak has had on hospitals in the region.
He said: "It's been quite a challenge for our hospital staff. When people come with flu symptoms, we have to make sure they're isolated since the last thing we want is for other patients to catch it as well, so that's a huge challenge for our staff.
"There's certainly pressure on the hospitals in the North-east at the moment, but the staff are doing a brilliant job."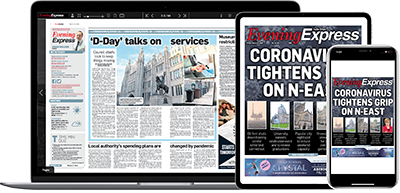 Help support quality local journalism … become a digital subscriber to the Evening Express
For as little as £5.99 a month you can access all of our content, including Premium articles.
Subscribe