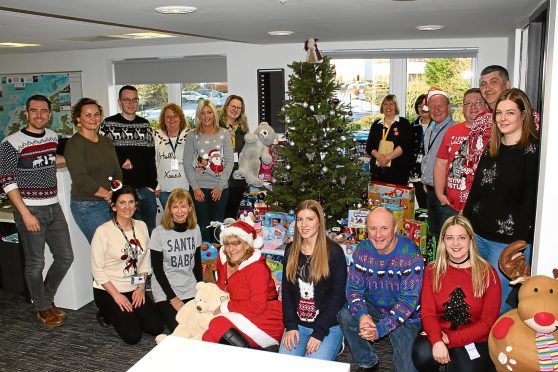 An oil and gas company has donated hundreds of toys, money and food to charity as part of a Christmas appeal.
OneSubsea, based in Portlethen, holds an appeal each year, organised by workers Pat Davies and Mandy Dinnie.
And this year, with the help of colleague Cath Pinho, the appeal collected just under 200 toys as well as £500 in cash for the Salvation Army, and food for Instant Neighbour.
Lieutenant Helen Froud, of the Salvation Army in Aberdeen, said: "We have 153 children receiving Christmas presents.
"This is fantastic. I appreciate that not everyone has spare money this year, but people are still finding time to think about other people."
Plant manager at OneSubsea Chris Blacklock said that he was "amazed" at the amount of donations received, and wanted to say thank you to everyone involved.
Trolley-loads of food have also been collected at Aberdeen Market to help out the elderly this Christmas.
The market had asked the public to donate food, with the items being collected in a trolley at the shopping centre.
Next week the food will be delivered to Community Food Initiatives North East (CFINE), who will distribute it to isolated and lonely elderly people in need this Christmas.
Colin White, assistant manager at the market, who came up with the idea, took to social media to let people know about the collection. He said: "I'm more than chuffed. I didn't expect that much. The trolley's overflowing.
"There's a lot of lonely pensioners at this time of year."
Meanwhile, members of the public are being urged to donate an item of food to Santa's sleigh in a North-east town.
Organisers of the Santa Run in Portlethen had used the sleigh to tour the town last week.
The sleigh is now sitting at B&M stores in the town's retail park for shoppers to donate items for CFINE.
Darren Robertson, one of the organisers, said: "If anyone can donate anything it would be greatly appreciated."
---
---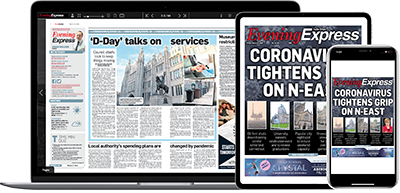 Help support quality local journalism … become a digital subscriber to the Evening Express
For as little as £5.99 a month you can access all of our content, including Premium articles.
Subscribe