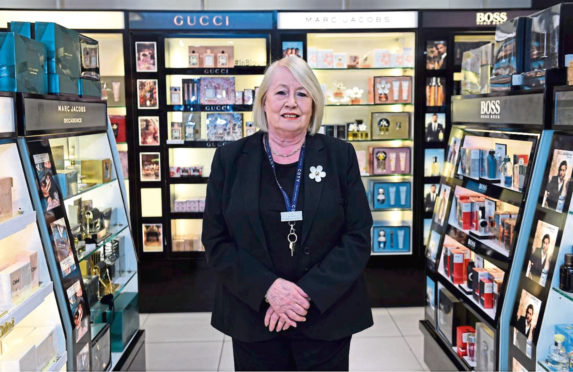 She's piped for the President of Austria, partied with Giovanni Versace, softened the features of the Iron Lady – but it's all in a day's work for Edith Thomson.
This truly amazing lady, who turns 80 next year, has spent the past 65 years working in the beauty counters of every department store in Aberdeen and she has no plans to retire.
"Apart from my children and grandchildren, my work is my life. I simply love what I do," said Edith, who lives in Midstocket.
"I have thoroughly enjoyed every minute of giving people the personal touch and helping to make them feel better about themselves.
"I think it is what I do best."
Edith had a brief stint at retirement in 2008, but it wasn't too long before the lure of the beauty industry enticed her back to her rightful place.
During her brief retirement she volunteered to do puppy walking for Guide Dogs and had great success with three out of the five dogs she worked with.
"Whatever I undertake in life I always apply the same principle, to do my very best."
Edith's work ethic saw her beat competition from around the UK to be crowned 'consultant of the year' by Yves Saint Laurent, where she met Giovanni Versace.
In 1980 she was summoned to the BP head office to make up the recently installed prime minister, Margaret Thatcher, ahead of appearing on Grampian TV.
"She was very nice, revealed Edith. "I was raving about the moisturiser I was applying to her face. When she asked how much it cost, I told her the price, which was £18. She said, 'Oh I can't afford that'!"
When Edith was 15 she dreamed of becoming a nurse, but she was not old enough to enrol.
And so she set forth on the journey of her chosen career path, when she first joined Michie's The Chemist, mixing up creams and foundations in the back room.
During this time, Edith also became the first drum major for The Bon Accord Ladies Pipe Band – the first of its kind in Aberdeen – and even performed for the President of Austria in Vienna.
In 1962, Edith married Jack Thomson, who she met at the Beach Ballroom when they were both 17.
"He asked me to dance, it was love at first sight."
Edith and Jack welcomed their children, Graham, 53 and daughter, Fiona, 49, to the family… but heartache was only to be a heartbeat away.
"When our daughter was first born I remember telling the nurse how wonderful my life was."
Shortly after, Edith was dealt a terrible blow. Jack, who was only 29, had a terminal brain tumour.
She was widowed at age 35.
"My friends, Moira Christie and Pat Christie, have supported me through the worst of times, and we remain good friends today."
Yet, despite the pain she has endured, Edith remains a powerful and positive life force.
"I think every day is precious," she said.
"The past, the present and future, every day is a gift.
"I feel very lucky for every opportunity that ever came my way, and have made peace with myself over the loss of Jack.
"Come next May I plan to put 80 balloons in the store to celebrate my birthday.
"The plan is to continue to give my all and do my best to provide the personal touch to the public for as long as I possibly can."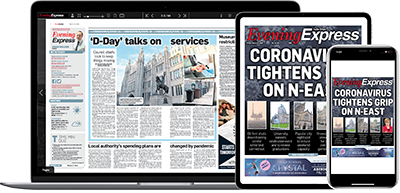 Help support quality local journalism … become a digital subscriber to the Evening Express
For as little as £5.99 a month you can access all of our content, including Premium articles.
Subscribe