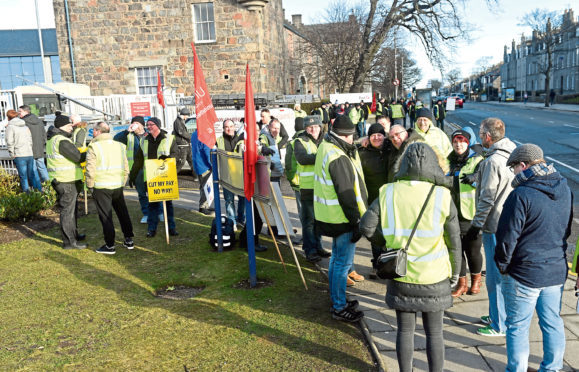 Strike action by Aberdeen bus drivers could be on the cards again.
The Evening Express can reveal drivers have been in talks with Unite officials over their new contracts.
Unite the Union convener Graham Gavin said meetings will be held over the next three to four weeks with First Bus boss David Phillips.
Previous strike action took place in March, with more than 10 days of disruption to services as drivers picketed the depot on King Street.
The opposition to new contracts for drivers meant First Bus had to bring up drivers from England, and even managing director Andrew Jarvis had to get behind the wheel.
Mr Gavin said: "There are a few issues to be ironed out with the company.
"We're meeting David Phillips over a number of weeks and hopefully we can get things sorted out.
"I wouldn't rule out another ballot if we can't get things sorted out with the company.
"But we're going to afford them the chance to rectify things."
According to Mr Gavin, members will be given the chance to vote on any industrial action, which could involve strikes.
However, he did say "we have to exhaust all options before that".
The main issue involves provision for holiday pay. As part of holiday pay legislation, workers are entitled to the average weekly wage of their last 12 weeks of work.
Mr Gavin said First is discounting voluntary overtime undertaken by drivers, only paying them for their base hours value.
He said: "They're not taking overtime into account, and we feel that they should be taking voluntary overtime into account.
"We've got drivers that work regular overtime.
"We feel the regular overtime that's worked should be taken into account for the last 12 week average.
"The company are saying it shouldn't be."
Alongside the holiday pay issue, drivers are also upset about the walking time between buses.
During breaks, drivers must make their way back to the King Street depot on their own time.
For instance, if a driver's break starts at St Nicholas Kirk on Union Street and their next bus starts there, they would have to make their way to the depot and back in their break times.
Meetings have been scheduled in the coming weeks with the HR department at First and operations director Mr Phillips.
David Adam, depot operations manager for First Aberdeen, said: "We have had initial discussions with our colleagues at Unite to set up a meeting on this issue. This will take place over the coming weeks."
A driver for First Aberdeen said there was a "toxic atmosphere" for workers at the firm.
He said: "Our wages have been rough, and our holiday pay is just a total disaster. Guys are refusing to work overtime.
"The union guys came into the canteen, which is a toxic atmosphere now, on Wednesday saying 'right guys, we're ready to strike'.
"The public aren't going to like this. We're doing the work of two buses when one doesn't show up. The public should be made aware of what's going on."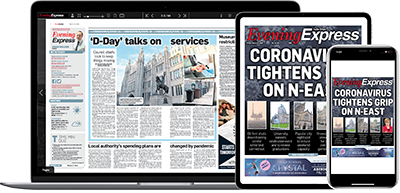 Help support quality local journalism … become a digital subscriber to the Evening Express
For as little as £5.99 a month you can access all of our content, including Premium articles.
Subscribe