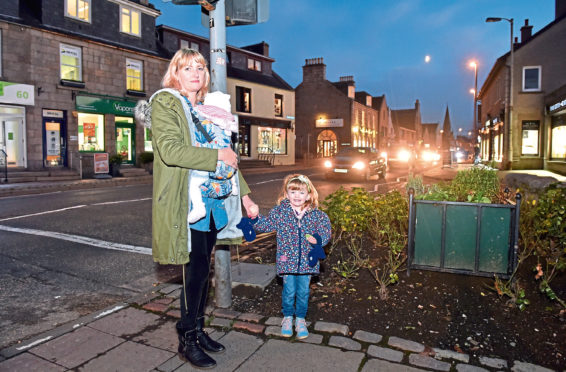 A north-east mum of two has urged drivers to watch their speed on a north-east road after she and her children were almost hit by a car.
Sarah Dodds, 37, was standing with her young daughters at a pedestrian crossing on Market Place in Inverurie when a car narrowly missed them.
Mrs Dodds, her nine-month-old baby and her three-year-old were starting to cross the road as the green man had come on.
She said: "There was a woman driving a car who thought she could beat the lights, and she ended up doing an emergency stop and coming to rest near us.
"She narrowly missed ploughing into my three-year-old and baby in the carrier, as well as two other children and two older ladies.
"The driver did an emergency stop and ended up halfway across the crossing."
According to Mrs Dodds, the driver indicated low sun got in her eyes and apologised, before driving off. It happened at 11.30am on November 13.
"The car came to rest too close to comfort. That was my whole world on that crossing," said Mrs Dodds.
She added: "I would ask drivers to slow down.
"It's a busy road and drivers shouldn't be thinking about beating the lights. There is an argument for making it 20mph if nothing else works."
---
---
Her safety message was echoed by Inverurie and District Councillor Neil Baillie.
He said: "I am relieved to hear Mrs Dodds and her children were unhurt in this incident.
"It is important motorists stick to the speed limit. Drivers shouldn't see it as a minimum.
"It is a busy stretch of road, with lots of other road users such as cyclists and pedestrians, and motorists should slow down to ensure they can react to any hazard.
"Particularly at this time of year, the low sun can become an extra hazard and people should drive accordingly."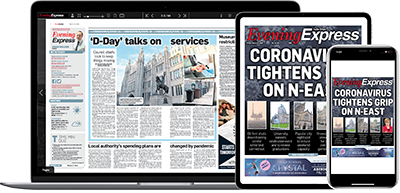 Help support quality local journalism … become a digital subscriber to the Evening Express
For as little as £5.99 a month you can access all of our content, including Premium articles.
Subscribe