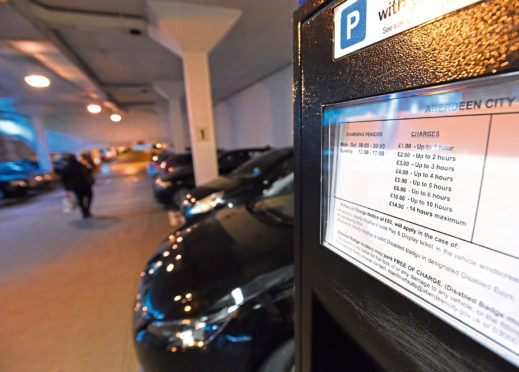 Drivers could soon park for free after 5pm at four major Aberdeen city centre car parks, the Evening Express can reveal today.
The Alive After Five scheme will offer free parking from 5pm until 8am Monday to Saturday at the Denburn, Chapel Street, Frederick Street and West North Street car parks, and Sundays will remain free.
The six-month trial is due to launch at the start of October, if councillors give the plan the go-ahead at their September meeting.
If successful, the scheme could see city centre businesses open later, according to business organisation Aberdeen Inspired.
Altogether the four car parks offer nearly 2,000 spaces.
Aberdeen City Council co-leader Douglas Lumsden said: "Since forming the administration over a year ago one of our key focuses has been to introduce and support measures that can help stimulate the economy.
"Removing the hassle of parking fees in the evening will encourage people into the city centre and provide a boost for businesses and restaurants across the town.
"Supporting the city centre economy through a mix of proposals with the business community alongside our major capital projects is something we are determined to do."
A total of £80,000 was set aside to implement the scheme in the budget approved back in March.
First established in Newcastle, the scheme saw charges in that city stop in the local authority's car parks after 5pm in a bid to increase the number of visitors.
Adrian Watson, chief executive of Aberdeen Inspired, said he believes businesses could stay open longer, if the scheme is successful.
He added: "We have looked at this model elsewhere in Newcastle.
"Parking is seen as a psychological barrier for people coming into the city centre.
"The council has listened and it looks like it will be adopted in the next couple of months or so."
Mr Watson said representatives from Newcastle City Council, who visited the north-east, said there had been a 20% profit to retailers after their adoption of the scheme.
He added: "We will evaluate the pilot.
"Not only how many cars but how does that play through to spend in restaurants, shops and pubs in the city."
The initiative announced at the budget meeting in March by the Conservative/Labour and Independent coalition is to come before September's meeting of the city growth and resources committee for final approval.
It could then be introduced as soon as the following month.
The council's SNP group is also in favour of adopting the scheme, and proposed it during the budget process in 2017 and again in 2018.
Councillor Jackie Dunbar, the SNP group's operations spokeswoman, said: "Eighteen months after it was first proposed by the SNP in our 2017 budget, I am delighted to see this moving forward.
"This move will have a positive impact for the city centre and can help breath new life into Union Street and local businesses."