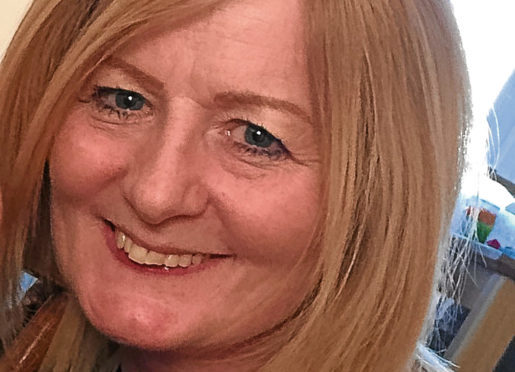 Morphine found in the blood of a driver after a fatal head-on crash in the North-east could have been heroin, a court has heard.
Alin Jar, 31, who was working as a driver for a car hire firm, was behind the wheel of a Vauxhall Meriva that collided head on with a Renault Megane carrying Jamesina Stewart, 57, and her family on the A90 in Aberdeenshire on March 5, 2016 – the day before Mother's Day.
Mrs Stewart, pictured, was killed at the scene while her daughter suffered horrific injuries.
Jar, of Clifton Road, Aberdeen, is alleged to have caused her death by dangerous driving while under the influence of morphine – a charge he denies.
The High Court in Aberdeen heard from a forensic scientist tasked with analysing a blood sample taken from Jar on the day of the accident.
The trial earlier heard from paramedics who tended to the Romanian national at the scene before rushing him to Aberdeen Royal Infirmary.
They said they had not administered morphine to Jar.
An A&E consultant at the hospital said a blood sample was taken from Jar within minutes of him arriving at hospital and before any pain medication was given to him.
Forensic scientist Steven Sole, 57, told a jury that a "high" reading of morphine – 0.27 milligrammes per litre of blood – was found in the sample that was taken.
He said the amount found could be consistent with either illicit heroin having been taken and breaking down within the body – or with the amount found "an hour or two" after the drug is used as a painkiller in surgery.
He said: "At that level the scientific data says a subject would be impaired with drowsiness, confusion or dizziness."
Advocate depute Bernard Ablett asked: "Would you expect impairment to be there in someone with that level in their blood?"
Mr Sole replied: "Yes."
Prosecutors say Jar drove dangerously and while impaired by morphine, travelled at excessive speed, repeatedly fell asleep and swerved into oncoming traffic before smashing into the car occupied by Mrs Stewart. It is further alleged that, shortly before the smash, another driver was forced to take "evasive action" to avoid a head on collision.
The charges against Jar state that three passengers in the car Jar collided with were injured while one was seriously injured, disfigured and impaired.
He earlier offered to plead guilty to a reduced charge of causing death by careless driving.
But prosecutors rejected his plea and Jar is now standing trial accused of the more serious charge of causing death by dangerous driving.
The trial, before Lord Woolman and a jury of six men and nine women, continues.