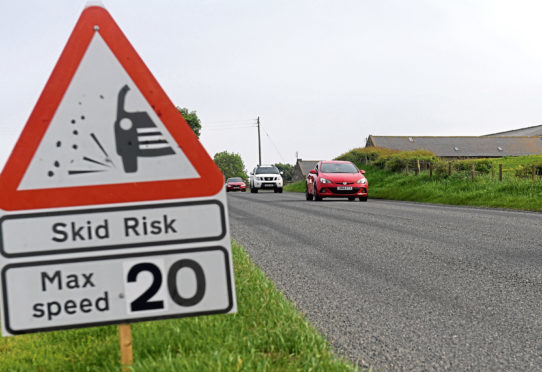 A driver has hit out after his car was left damaged as a result of resurfacing work on a north-east road.
Aberdeenshire Council officers are carrying out the works on the A947 Banff to Aberdeen road, which involves the laying of tar.
One lane has been closed to traffic while the work is carried out, while the other lane is still open to traffic.
Matthew Bruce, 29, from Macduff, was travelling on the A947 on Monday between Fyvie and Oldmeldrum and said he was following the 10mph speed limit while tarring work was under way.
The field service engineer added: "Every single panel of my car – especially at one side, the side nearest the opposite line which was being tarred as we drove past, has been covered in tar spots. I've never seen anything like it in my life.
"The work vehicles were physically tarring and pouring tar and stones on one lane as cars drove up the opposite lane just a couple of feet away. It's a disgrace.
"My windscreen got smashed too. It was like hailstones hitting my car as other cars came toward me and as the huge machinery poured stones out of the back of a lorry as cars drove past. If the road was going to be that much of a mess, it should have been closed and diverted."
He put his car in to get professionally cleaned and to get the windscreen fixed – which cost £220.
Matthew added: "I will be pushing Aberdeenshire Council to reimburse me for this cost."
It is understood the warmer weather has meant the bitumen used in the surface dressing process is taking longer to harden in places, leading to it ending up on the bodywork of vehicles.
Another driver, who did not want to be named, has also had issues with the work, and said: "Even adhering to the 10mph restrictions is treacherous, especially when other road users pass you at speed in either direction."
The council's director of infrastructure services, Stephen Archer, said: "Surface dressing is often carried out while the road is still open, avoiding high numbers of road closures, so I would strongly advise motorists to take extra care."
The council's head of roads, Philip McKay, said: "While it sometimes may appear that a road is clear and suitable for normal use, there may still be loose chippings."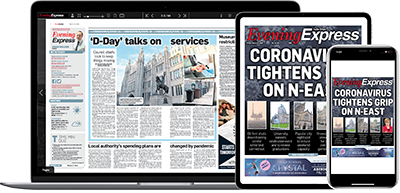 Help support quality local journalism … become a digital subscriber to the Evening Express
For as little as £5.99 a month you can access all of our content, including Premium articles.
Subscribe