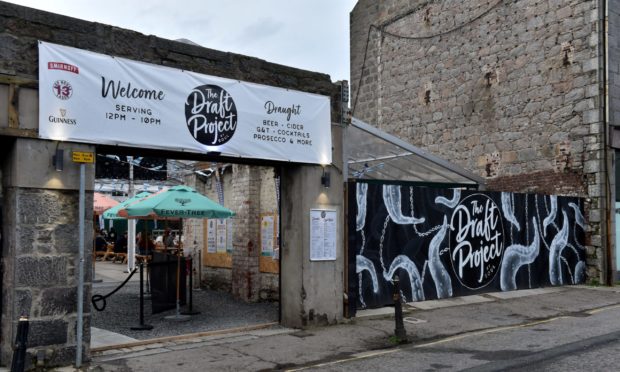 Aberdeen pub The Draft Project has been given a fresh licence despite concerns over public safety.
PB Devco had applied for a new occasional licence for its outdoor premises The Draft Project, which was hit by controversy this month when videos appeared on social media of fans hugging, shouting and not observing social distancing guidelines following Scotland's win against Serbia.
The bar had also been issued a notice of direction ordering it to remove all televisions from the premises.
A meeting of the Aberdeen City Council licensing board was held to discuss whether a new licence should be granted.
The Draft Project's occasional licence was due for renewal on Friday, however the decision was deferred until a public meeting could be held, which meant no alcohol was able to be served on the premises over the weekend.
A motion was brought by Councillor Gordon Townson to refuse the occasional licence, on the grounds that there was concerns over public safety.
However Councillor Marie Boulton, who is the convener for the licensing board, moved to grant the application.
Votes were split 3-3, with Ms Boulton getting the casting vote, resulting in the application being granted.
However, conditions have been placed on it, which means alcohol cannot be served after 10pm and they are no longer allowed to show high-profile sports events.
It followed after a suggestion from Police Scotland, who called for the conditions to be put in place.
A number of objections to the granting of a new licence were also received by members of the public, and three spoke to their views at the meeting.
Questions were also raised by councillors over the venue's protocols around ensuring people coming into the venue were following Scottish Government guidelines for hospitality – such as wearing a mask and ensuring that as Aberdeen is under level two, groups of up to six from two households were meeting.
Ms Boulton said she didn't believe there had been any "systemic failure" on the part of the pub which would prevent a license being granted.
She said: "Having gone through the letters of complaint, there was a common theme in which no one had actually been there. We had a high number of submissions but very few people willing to stand behind their comments.
"What I heard today from statutory consultees was that there wasn't an systemic or ongoing failure in management at this premises. The police identified one incident which happened on the 13th October where they had three customers failing to comply with the covid regulations and refusing to leave and they were trying to be evicted from the premises by the company and quite correctly, as we'd expect them to do, they contacted the police for support.
"We've always as a board said we'd never persecute a premises for actually working with the police, that was in days gone by when there was a reluctance from premises to contact the police as they felt it would be held against them.
"What we have to be very clear on is we're not looking at the Soul or PB Devco license, we're looking at the personal license which has been applied for by a Mr Barry Clarkson who is not part of the Soul/PB Devco licence.
"That in no way makes light of the behaviour that happened, but the police said this was two singular issues that happened when goals were scored – the final one around two minutes before things calmed down and people started to leave the premises. We also heard no concerns from environmental health, they haven't had to take any enforcement action up until the incident on the 12th November."
She added: "What we have to recognise is, if we said you're not getting your occasional license today they won't have to close, they just won't be able to serve alcohol. We don't have the power to close the premises down, that sits with environmental health and trading standards if they felt they weren't complying."
In response to the complaints, through solicitors Ledingham Chalmers, PB Devco told the licensing board: "To jeopardise the potential future of the business based on complaints arising out of one isolated incident, caused by a brief outflow of happiness and celebration would appear to be entirely disproportionate.
"The applicants have always taken their responsibilities seriously, and will continue to do so.
"It is in their interest, as much as the board's to operate consistently with the board's licensing objectives.
"We respectfully ask that the occasional licence application for The Draft Project is therefore once again approved, on the same terms as all previous successful applications, with the addition of the extra condition proposed by Police Scotland."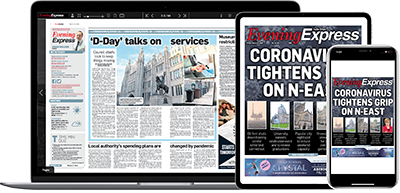 Help support quality local journalism … become a digital subscriber to the Evening Express
For as little as £5.99 a month you can access all of our content, including Premium articles.
Subscribe