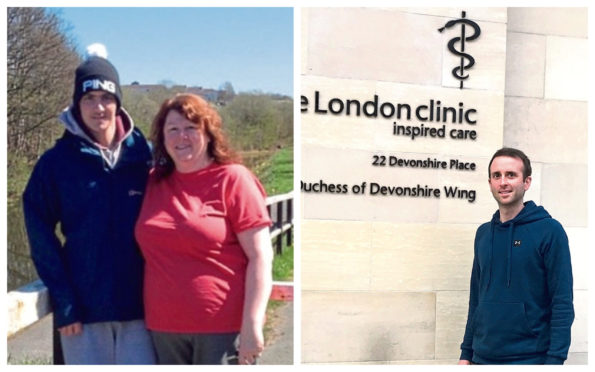 A north-east man who could save a life by donating his stem cells has inspired many others to do the same.
Paul Flecher-Herd, 27, signed up to donate through the Anthony Nolan Trust in memory of his friend Cammy Smith, who lost his battle with leukaemia in 2014 aged 26.
More than five years on, Kingswells man Paul found out he is a match – meaning his cells could save someone's life, or give them valuable time with their family, when he donates his cells on March 27.
Paul, who now works for legal firm Aberdein Considine in Edinburgh, also set out to get 20 other people to sign up to the register – but the response has been so overwhelming that he has now more than doubled his target and is aiming for 50.
He said: "It's been very unexpected. I didn't think there would be a response like that.
"When I found out I was a match, I decided I would try to get other people to sign up to the register as well, because it's such an important thing to do.
"My original target was to get 20 people to do it but I'd reached that within about 13 hours. That's when I decided to raise it because I think it's definitely doable.
"About 25 people have signed up so far and that's just the people who have made me aware they've done it. There could be more people who have read the story or seen it shared on social media and decided to do it as well.
"I'm trying to raise awareness not just in the north-east but all over Scotland as well. The more attention the issue gets the better.
"I am doing this solely because of Cammy's awareness of the charity he raised on social media. It shows that his legacy is still in full swing."
---
---
Paul discovered last week he had passed his pre-transplant medical check, clearing the way for the procedure to take place next Wednesday. He urged anyone who does sign up to donate to be patient as the process can take a number of years.
He said: "It's only when you hear you're a match that you actually realise that these things do happen.
"It's not just a case of signing up and nothing ever coming of it. I thought that at first but more than five years later I got the call to say I was a potential match.
"You stay on the register for years to come and there are so many people out there who are in need.
"You have the potential to save someone's life or give them valuable time with their family. It's amazing to be able to give the gift of life."
Paul's efforts were welcomed by Cammy's mum Katy Day, 53, who said he was keeping her son's legacy alive.
Visit anthonynolan.org for more information or to register.