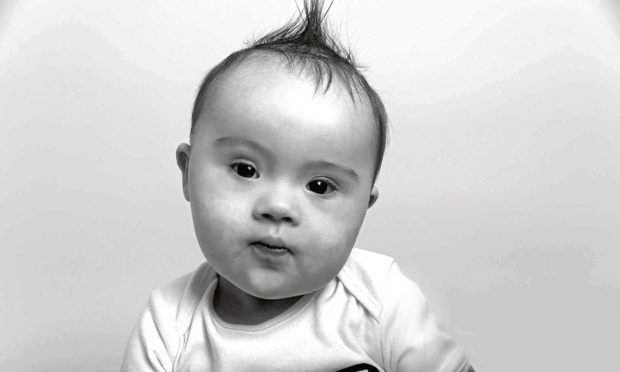 A mum-of-three whose one-year-old son was born with Down's Syndrome today said they "couldn't imagine their lives without him".
Claire, 31, and Dave Penny had no idea Caleb had Down's Syndrome until five weeks after he was born in March last year.
The paediatric nurse, who is also mum to Brody, 8, and Ayla, 5, said their world was "turned upside down" when they received the diagnosis.
Claire, 31, who is from Old Rayne, said: "We did have the test and everything was low risk.
"I had a planned home birth with him and he was born at home and when he was born I knew.
"I knew he looked different from my other son and daughter.
"The doctor came out to do the checks and various other midwife visits and said he seemed to be showing a few characteristics. I've got a friend who is a paediatrician and I raised my concerns with her and a few others.
"Nothing else was done or said.
"My friend phoned me the week after and said I should have been given a blood test."
Claire took the test and had her friend deliver the results to her.
She said: "The test came back positive and it was a bit of a shock.
"Our world was turned upside down."
Since he was five-months-old, Caleb has also suffered from West Syndrome which causes children to have spasms. He is fed liquids from a tube and is on oxygen all the time at the moment.
Caleb has also faced three very long admissions in hospital, both in Aberdeen and Glasgow.
Claire said: "Since then (being diagnosed with West Syndrome) he hasn't been great.
"Since August he has been in and out of hospital and has been on lots of drugs.
"It's been hard because of the medication he's on.
"But he's the happiest little chap you've ever met.
"He's awesome and we couldn't imagine our lives without him.
"He just melts everybody's heart."
Claire has made friends with a group of four other mums in the North-east who also have children with Down's Syndrome. She also set up her own blog last year, which has helped to raise awareness of the condition.
Today also marks the beginning of Down's Syndrome Awareness Week, which runs until Sunday. This year, the Down's Syndrome Association is celebrating all the different ways people with the condition make a difference to their communities.
Claire first started her blog as a way of keeping family and friends up to date with Caleb, and challenge old fashioned perceptions about the condition.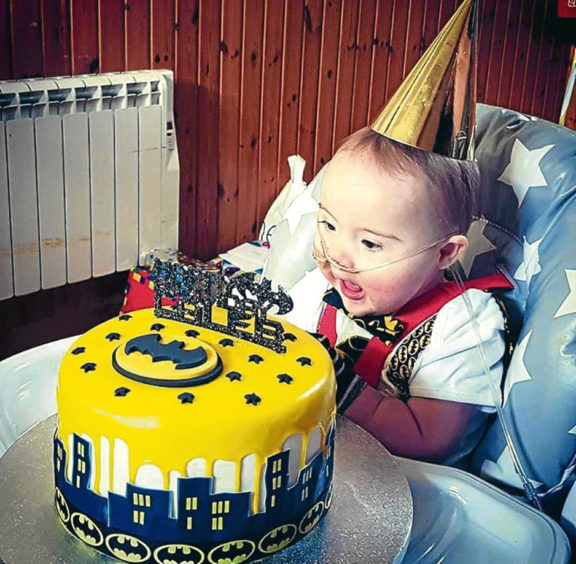 She said: "It started because we have got family all over the place and to keep everyone informed we set up a Facebook page. It means we can tell a large audience rather than messaging everyone individually and we've also reached out to the wider community.
"The whole village is very much aware of him and Down's Syndrome.
"I also started the blog because traditionally back in the day, people with Down's Syndrome were shut away and this is showing the world that doesn't need to be the case.
"They are fabulous little kids that function like other kids do."
Down's Syndrome is caused by the presence of an extra chromosome in a baby's cells. In the majority of cases – including that of Caleb's – it is not an inherited condition.
Instead the syndrome usually occurs because of a chance happening at the time of conception.
For every 1,000 babies born, one will have the disorder and about 750 babies are born with Down's Syndrome in the UK each year. Caleb celebrated his first birthday at the weekend with family and friends at a messy play party.
Claire said: "They say the first year is the hardest.
"It's unknown territory. We don't know what life will be like this week, this month or this year.
"His quality of life should be fine but he will need a lot of extra input with the physio.
"There are people with Down's Syndrome who are living well into their 60s.
"He could have a bright future and will be given all the opportunities and he will just do things at his own pace. He just takes it all in his stride."
Claire's blog can be accessed on Facebook
Watch: Scottish twins feature in special video to mark World Down Syndrome Day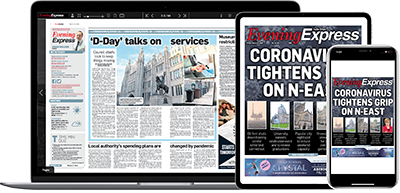 Help support quality local journalism … become a digital subscriber to the Evening Express
For as little as £5.99 a month you can access all of our content, including Premium articles.
Subscribe