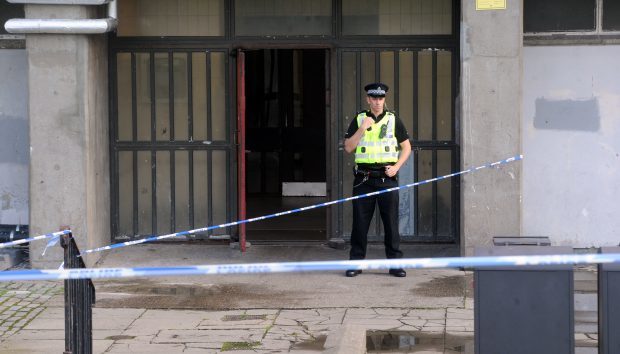 A double murderer told police "if they're dead, I'm joining them" before throwing himself from a 12th storey balcony, a report revealed today.
Hugh Gallacher confessed to killing Keith Taylor and Tracy Gabriel at Aberdeen's Donside Court on July 19, 2016, before taking his own life.
His admission was made to four officers at the scene in Tillydrone who were working to save Keith while attempting to persuade bloodstained Gallagher to come inside from the balcony – where Tracy was lying injured.
The details of the case were revealed for the first time in a Police Investigations and Review Commissioner (PIRC) report released today.
The PIRC investigation was ordered by the Crown Office and Procurator Fiscal Service and found police officers who attended the incident acted "appropriately and with professionalism".
A PIRC spokesman said: "On entering the flat, officers found Keith Taylor, 44, lying on the living room sofa with stab wounds. They then saw Hugh Gallacher, 56, standing on the balcony of the flat.
"His hands appeared to be bloodstained and he shouted to the officers that he was responsible for inflicting the injuries to Mr Taylor and Tracy Gabriel, 41, the resident of the flat. She was subsequently found on the balcony with stab wounds to her chest.
"Two of the officers carried out CPR on Mr Taylor, while the other two officers attempted, over a three to four-minute period, to calm Hugh Gallacher and persuade him to come back inside.
"However, he shouted and swore indicating that he was responsible for inflicting the injuries on Keith Taylor and Tracy Gabriel before indicating his intention to jump from the balcony and saying if he came back inside he would be arrested.
"However, Hugh Gallacher told officers: 'If they're dead, I'm joining them'.
"He then slammed the balcony window shut and jumped to his death. The officers found Ms Gabriel on the balcony and carried out first aid on her whilst other officers carried out first aid on Hugh Gallacher, on the ground outside the tower block."
All three died from their injuries.
In her report, Commissioner Kate Frame found Gallacher slammed the window closed with such force it bent the lever and jammed it closed. He then made his way through safety netting and over the balcony at 8.40pm.
She said: "It is clear that officers attempted to persuade Hugh Gallacher to come back into the flat from the balcony but had limited opportunity to prevent him from completing his stated intention of suicide.
"They were confronted with very difficult circumstances but dealt with them appropriately and with a high degree of professionalism." As part of their inquiries, PIRC investigators interviewed and obtained statements from members of the public, police officers and staff. They also examined police statements, police reports, telephone and radio communications recordings, briefing papers, photographs and Police Standard Operating Procedures.
The Commissioner also found a sofa was in front of the balcony door, preventing immediate access to the balcony.
Residents of the flats who witnessed the incident, state there was no physical contact between the officers and Gallacher; that no one was standing next to him when he went over the balcony; that he was screaming threats to kill himself and the police were calmly trying to diffuse the situation.
North East Divisional Commander Chief Superintendent Campbell Thomson said: "I acknowledge the outcome of this review by the Commissioner into what was a completely tragic incident. In common with the PIRC review, I recognise the professionalism of our officers who attended at the time and the appropriateness of their actions when faced with an extremely challenging and difficult set of circumstances. Our thoughts continue to be with all those families involved."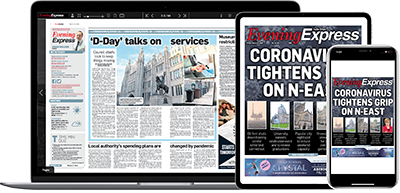 Help support quality local journalism … become a digital subscriber to the Evening Express
For as little as £5.99 a month you can access all of our content, including Premium articles.
Subscribe