A milkman is to return to the doorsteps of a north-east community after a mum was inspired by her daughter to reduce plastic use.
Amy Johnston, of Ellon, fielded questions from eight-year-old daughter Maya on ways the family could reduce the use of plastic after learning about recycling in school.
She said: "My daughter was asking how we could use less plastic after learning about the damage it causes in the ocean, and I thought about the milk cartons.
"I wondered if we could bring back doorstep milk deliveries.
"I decided we had to do something because I had to be a good example and show Maya that we can do things to help. It's a small step but it's one in the right direction."
Childminder Amy contacted milk company Muller, which said it would supply the bottles to a local milkman who agreed to take on the round if there was demand.
---
---
Amy, also mum to 17-month-old Harris, posted the idea on Facebook which eventually attracted more than 200 responses.
She said: "I think people are nostalgic for the days when everyone had milk deliveries.
"When I put the post online, everyone was talking about how you would get the cream on top and how you could get juice sometimes.
"However, I do think people care about their plastic usage too."
Muller will supply the glass bottles to local self-employed milkman William Milne, who will begin deliveries within a few weeks.
William, who has been delivering milk for more than 25 years, said: "I deliver to businesses around Ellon but my main run is in Aberdeen.
"There's been quite a few calls from people in Ellon who are wanting to move away from plastic bottles, so I'm happy to extend my round.
"We have about 40 homes just now but hopefully that will increase over time."
William said that more and more people are turning away from plastic following David Attenborough's Planet Earth 2 documentary.
Young Maya is thrilled with the success of her idea.
Amy said: "She is absolutely delighted, she can't wait for the delivery to start."
Councillor Isobel Davidson, who represents the Ellon and district ward, said: "It is certainly nice that people are welcoming back this way of getting their milk.
"And it's great that people are using reusable bottles."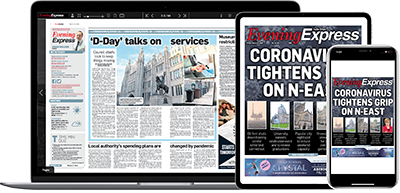 Help support quality local journalism … become a digital subscriber to the Evening Express
For as little as £5.99 a month you can access all of our content, including Premium articles.
Subscribe