A hit TV show is offering North-east couples the opportunity to have their dream wedding paid for – but there is a hitch…
Don't Tell the Bride, which is moving from BBC Three to Sky One, is looking for couples from the area to feature on its new series.
But in the BAFTA-nominated show, the fate of the wedding is entirely in the hands of the groom.
He is given three weeks and a set budget to plan the whole affair from scratch as a surprise for his bride – with previous results ranging from heart-warming to disastrous.
The programme has so far filmed more than 100 weddings over its nine-year history, and this season the budget for each groom has been upped from £12,000 to £14,000.
A spokeswoman for the show said: "At a time when saving for a wedding is a distant dream for many, Don't Tell the Bride offers couples the chance to have their wedding this year without the stress of saving for it.
"It's a unique and memorable way for couples to tie the knot in 2016.
"We are currently in the process of casting for the new series which will be broadcast later this year and we would really love to feature a couple from the North-east on the show."
Interested couples are asked to email dttb@applyfortheshow.com to request an application form.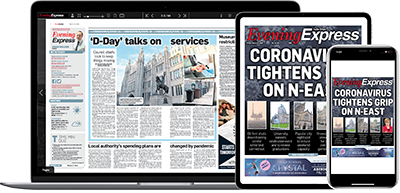 Help support quality local journalism … become a digital subscriber to the Evening Express
For as little as £5.99 a month you can access all of our content, including Premium articles.
Subscribe