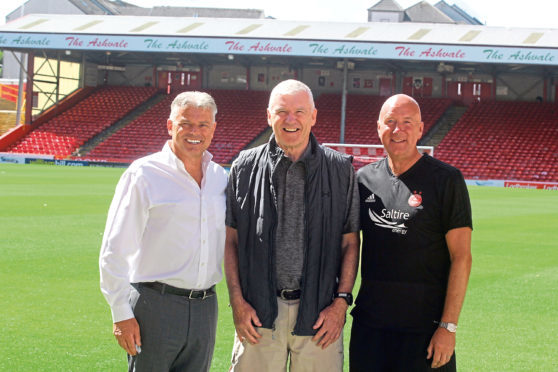 The football academy at the Dons' new Kingsford stadium is to be named after Pittodrie legend Bobby Clark.
The goalkeeper's name will take pride of place at the youth development facilities at the sports hub on the outskirts of Westhill.
It comes after the football club revealed a new £1 million cash injection for the training facilities.
American businessman Tom Crotty has agreed to contribute £500,000 – which is being matched by Aberdeen Football Club board director Dave Cormack.
The money is in addition to Mr Crotty's investment of £775,000 last year.
The Dons said the naming of The Bobby Clark Football Academy will allow the club to recognise his achievements and contribution to the team and football in both Scotland and the USA over the years.
---
---
The academy will include outdoor, floodlit 3G pitches, as well as areas for other outdoor sports and indoor spaces for a variety of community-based sporting and recreational activities.
Clark earned 16 caps for Scotland and made almost 600 appearances for Aberdeen between 1965 and 1980.
He is the second inductee into the Aberdeen Hall of Fame.
After leaving the Dons he took up coaching in the US, spending 16 years as the head coach of the University of Notre Dame's men's soccer team before retiring last year.
Bobby said it was one of the greatest honours of his life.
He added: "My special thanks to both Dave Cormack and Tom Crotty as I feel they were very strong supporters of the academy and associating my name with it.
"Playing and teaching have been my life and to be associated with this new academy is one of the greatest honours I've ever been given."
Mr Crotty said: "My initial connection with Aberdeen came about through my association with Bobby at Notre Dame almost 20 years ago. Our friendship was further cemented as a result of my involvement in Grassroot Soccer – an organisation founded by Bobby's son, Tommy.
"I'm so pleased that the club has honoured Bobby in this way.
"Not only was he a Dons and Scotland goalkeeping legend, but he has been an inspirational coach and a positive driving force for the game across the USA."
Former Aberdeen manager and footballing legend Sir Alex Ferguson, said: "First of all I must thank Aberdeen FC for recognising one of their greatest players of all time, Bobby Clark.
"His abilities as a goalkeeper were obviously recognised throughout the country and, when I managed Aberdeen, I was privileged to benefit from his loyalty and honesty.
"His work as a coach was a tremendous asset to the Club where his discipline and knowledge were highlighted by the emergence of the likes of Neale Cooper, Neil Simpson and Eric Black.
"I followed Bobby's career as a coach, which was success after success, and had the privilege to spend time with him at Notre Dame where the fine job he did was recognised by everyone I met there. Well done Bobby and congratulations on a tremedous achievement."