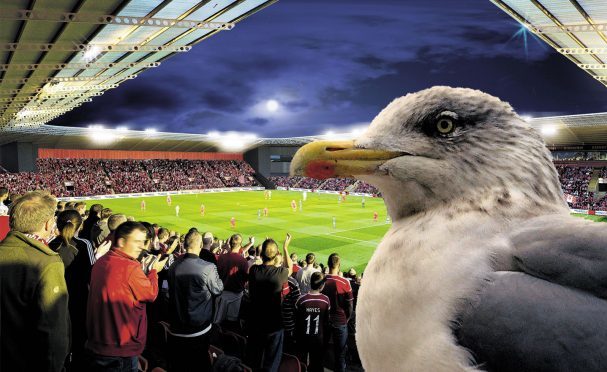 The humble seagull is the latest stumbling block that Aberdeen FC must overcome if their plans for a £50 million new stadium are to become a reality.
Ecologists have warned construction should not take place between March and August in order to protect gulls and other species of bird.
A series of surveys, conducted by Echoes Ecology Ltd on behalf of Aberdeen FC and architects Halliday Fraser Munro, have revealed building on land at Kingsford could harm a number of avian species which use the site – including herring gulls and starlings.
The surveys took place between November and March.
A total of 42 species of birds were recorded during the survey period.
Of these, 28 were found to be using the site for feeding, roosting or other purposes.
Among those recorded, nine were red-listed, meaning they have the highest conservation priority, with the species needing urgent action.
A total of 13 were amber-listed, the next most critical group, including the mute swan and the common gulls.
Two of those species are also of international concern due to falling populations.
A report submitted to council planners for Aberdeen FC and architects Halliday Fraser Munro has recommended only allowing work to take place outside the birds' nesting season to protect them.
It said: "All birds' nests are protected by law (the Wildlife and Countryside Act, 1981) while being built or in use.
"The nesting season for the majority of species in the UK is March to August inclusive.
"No bird species which are known to breed regularly outside this season were recorded within the survey area.
"As such, it is recommended that the site is worked upon outside of this nesting season.
"If this is not possible and works are due to take place between March to August, then areas of the site that need to be worked upon should be shown to be free of nesting birds prior to works commencing.
"This can be achieved through a nesting bird check completed by a suitably qualified ecologist."
A spokeswoman for Aberdeen FC said: "This study is part of a comprehensive collection of seasonal surveys which are being completed as part of the planning process.
"They will inform any eventual construction process and the findings are in line with mitigation measures already identified through the Environmental Impact Assessment undertaken on behalf of AFC."
If approved the development, which would be situated close to the AWPR, would see a training facility completed first, and be available to use in 2018.
It is then hoped a new 20,000-capacity stadium could be completed by the start of the 2020/21 season.
A spokesman for the No Kingsford Stadium group said: "The site is well recognised locally as an area with a diversity of wildlife, especially birds.
"The recommendation in the report by Brindley Associates that the site must be clear of nesting birds between March and August is entirely appropriate for the protection of the species as detailed in their report, given that by law construction works must not take place in areas where birds are nesting.
"Greenbelt sites such as this must be protected for many reasons, the protection of wildlife being only one."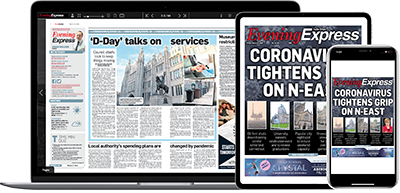 Help support quality local journalism … become a digital subscriber to the Evening Express
For as little as £5.99 a month you can access all of our content, including Premium articles.
Subscribe