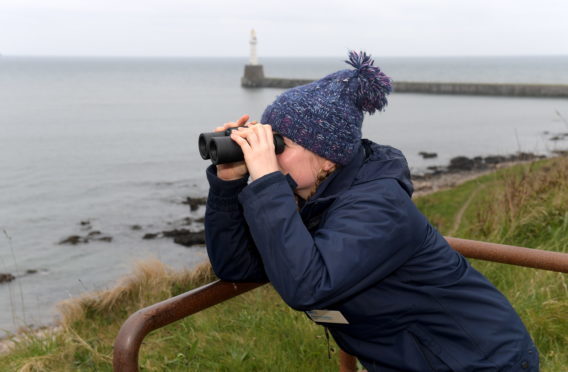 A conservation charity has spoken of the "special moment" that three whales were spotted off the coast of Aberdeen.
The RSPB's Dolphinwatch project at Torry Battery had the rare and unexpected spotting on Saturday just 15 minutes before they were due to pack up.
The popular project gives people the chance to see and learn about the creatures.
Laura Watson, RSPB officer for the area said it had caught everyone by surprise that they spotted the first minke whales of the season.
It is rare for the animal to be spotted so close to the shore in Aberdeen as they are usually spotted further away.
The crew were 15 minutes from finishing up when the whales were seen by a member of the public.
Laura said: "It was very late in the day that they were spotted.
"I was beginning to think about packing up and a lot of members of the public had already gone home.
"There was roughly around eight people left and we were looking in the normal spots and it was a gentleman who said he had seen a fin.
"It was quite close that you could see it in the distance without binoculars and the other officer and I who were there had the same thought that it was too big to be a dolphin.
"When we got a look with the binoculars we saw this one fine which was then another two popped up and there was these three minke whales.
"It was a special and cool moment for everyone that was there as we've had dolphins almost every day but hadn't had any whales yet."
Laura added that due to the excitement of the whales by those still in attendance that they didn't manage to get a picture of the rare occurrence.
She said: "We were trying to make sure that everyone there had a chance to see them and was pointing them out to everyone.
"We didn't get a picture and even travelled along to the coast road trying to see if they were still there to get one.
"However, these whales can hold their breath for a very long time so they can pop up and then you won't see them again.
"It is quite rare to see them this close, while they are most popular spotted in Scotland it is normally offshore when they are mostly seen.
"It was a quiet day for dolphins that day but at least we managed to have the first whales spotted of the season."
Dolphinwatch is set to continue until August.