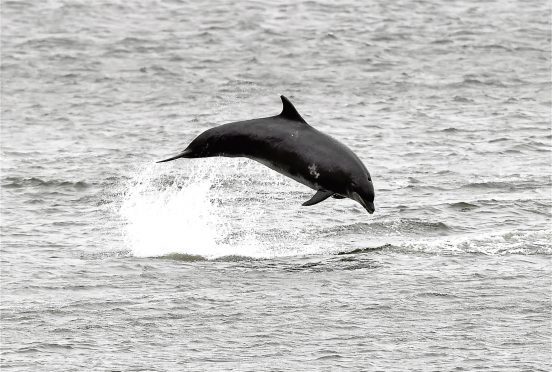 A new project is hoping to make waves with a temporary dolphin viewing structure.
The Greyhope Bay project – which is aiming to create a £10 million dolphin-watching and education facility in the city – has set its sights on building a transitory exhibition centre called The Bridge at its site close to Torry next year.
The plan would see 11 disused shipping containers transformed into two-storey buildings with an outdoor viewing platform and cafe space.
Fiona Mcintyre, managing director for Greyhope Bay, said: "We have been running with a major and ambitious project in the area that we imagine being a trans-formative project for Torry and Aberdeen."
A family fun day in May saw the scheme's bosses focus on raising the profile of the wildlife at Torry Battery and the views on the city's doorstep. People were invited to the bay to learn more about the initiative and get up close with marine life.
Fiona said: "The aim in May was to get people down to the site. We built a marquee on-site and hosted a two-day event. For the family day 100 people had responded on Facebook that they were going, but we had well over 3,000 people that made their way to the site. It was incredible there was a real appetite for a project like this in the area."
And Fiona said the group wanted to build on that interest.
She added: "We have been thinking that we created something that people are responding to. So how do we build on the momentum?
"Our answer is that we're going to start Greyhope Bay, we're going to occupy the site and open a temporary centre that will allow us to test ideas and show people what it is and is going to be."
Community engagement workshops will be held giving the public input into The Bridge design. Project bosses hope to have planning permission by March next year – with a construction period that will potentially see the structure open by August next year.
It is estimated the scheme will cost £300,000 and a crowdfunding campaign is set to be launched in the new year, with the hope of raising £50,000.