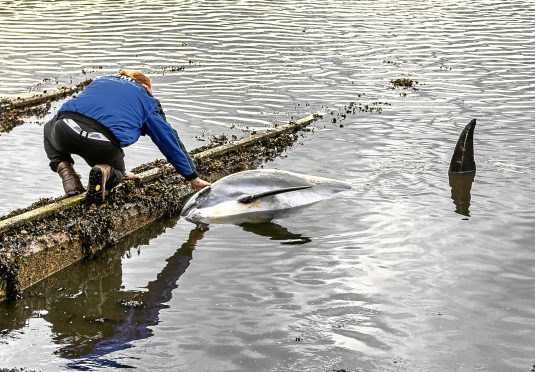 A rescue effort ended in sadness as a distressed dolphin died after spending hours circling in a North-east harbour.
Marine experts rushed to Buckie following reports that the "confused" adult male had been seen swimming near boats and almost hitting the harbour wall for at least eight hours.
Just as the British Divers Marine Life Rescue (BDLMR) members were preparing to force the dolphin to strand so they could treat it, the animal made a beeline for a lifeboat ramp.
The dolphin mounted the ramp and thrashed itself against the ground until it died.
Cath Bain, co-ordinator for the Moray branch of the BDMLR, was one of the crew who had been on hand to try to bring the animal to safety.
She revealed the dolphin was not one commonly spotted in the Moray Firth. She added: "The dolphin was obviously unwell, and the condition of its body indicated it had not been eating properly for some time.
"These white-beaked dolphins are a deepwater species, we don't see them inshore very often."
The dolphin's body was taken to a Scottish Marine Animal Stranding Scheme facility in Inverness for a post-mortem examination.