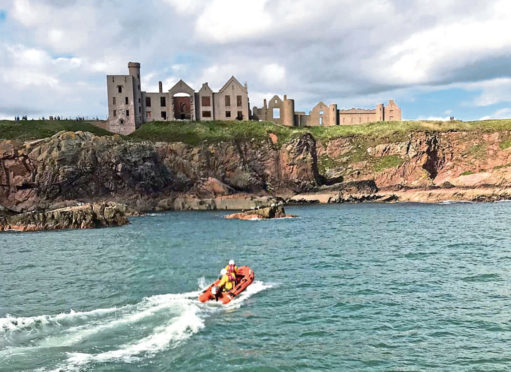 A dog that plunged over a north-east cliff edge has had his day, having been returned to shore safe and well by a lifeboat crew.
The canine was on a walk with its owner at Slains Castle when it fell over the edge on Saturday at about 12.15pm.
Emergency services, including coastguard and RNLI teams, launched a rescue operation.
Although the coastguard rescue teams were preparing a rope rescue, the dog was recovered by the Peterhead RNLI crew at 1.35pm.
It was then returned safely to its owner "with minor injuries", according to the coastguard.
A coastguard spokesman said: "We received a call at 12.20pm about a dog that had run over the cliff at Slains Castle.
"Cruden Bay and Peterhead Lifeguard Rescue Teams were sent out. Peterhead Lifeboat also attended the scene. The lifeboat recovered the dog at the bottom of the cliff.
"The dog suffered only minor injuries.
"It had some blood around its mouth and small cuts and has now been reunited with its owner."
A Peterhead RNLI spokesman added: "The RNLI Peterhead Relief Tamar Lifeboat Edward and Barbara Prigmore was requested to launch by UK Coastguard on Saturday at 12.31pm with its volunteer crew to a report of a dog having fallen off cliffs at Slains Castle.
"The lifeboat and coastguard personnel attended the scene.
"The lifeboat recovered the dog and returned to its berth at 1.35pm.
"The dog was then returned to very grateful owners.
"The sea conditions were calm, and wind was south-west 12 knots. Visibility was good."
Councillor Alan Fakley, who represents the Peterhead South and Cruden ward, urged dog owners to take care when walking their dogs near cliff edges.
He said: "There have been a number of dogs that have fallen over cliff edges in this area recently.
"I would ask owners to be very careful when walking their dogs and to keep a close eye on them.
"I would also like to commend the work of the emergency services to ensure that the dog was rescued.
"I am very glad to hear that it was safely returned to its owner."
In April another dog was hurt in a fall at the cliffs.
The puggle – a cross between a beagle and a pug – suffered an injury to one of its hind legs.
Both the coastguard and RNLI were involved in the rescue.