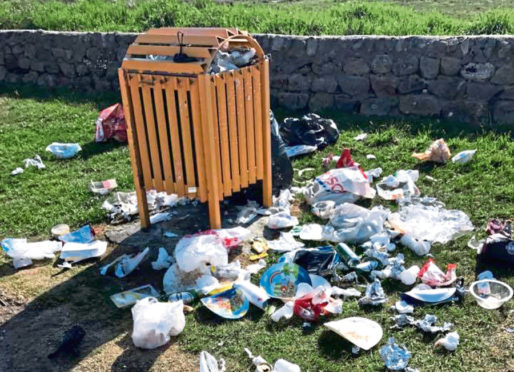 Residents and community leaders have hit out after a north-east beauty spot was blighted by litter.
There have been previous issues with litter at Balmedie Beach, and after warm weather at the weekend attracted more visitors to the beach, bins were left overflowing.
Bags, plates and other plastic items were strewn across the grass and path, as the bins were too small. However, as well as the smaller facilities there are also larger bins that can be used in the car park area which are regularly emptied.
The Sand Bothy, which is run by Belhelvie Community Trust, also recently secured two big blue buckets from Aberdeenshire Council to place near the bothy.
Kathleen Strachan, 47, from Balmedie, was walking her dog at the beach when she came across the litter. She said: "I'm disgusted to see this again at Balmedie Beach. It's always the same when it's been a nice weekend.
"There was lots of rubbish on the actual beach. I understand they can't put the big massive bins there as fly tipping would probably happen but they could put a few more bins.
"I've been taught and also I've taught my kids too, if the bin is full, take your rubbish home or even take an extra rubbish bag and take it home."
It follows after environmental group Surfers Against Sewage organised a litter pick on Saturday – where 16 bags of rubbish were picked up.
Councillor Andrew Hassan, who represents the Mid Formartine ward, said: "I was hugely disappointed to see the littering at Balmedie Beach on Monday following the weekend of good weather.
"It is particularly sad given a number of 'beach clean-ups' have been carried out by volunteer groups in recent times.
"The council also provided bigger bins at the car park a short time ago following a request from the Sand Bothy – yet some beach users still see it acceptable to leave their rubbish around the base of the full smaller bins where the seagulls can delve into it, rather than take it the short distance to the new bins or indeed take it home."
"Public spaces require public care", Page 26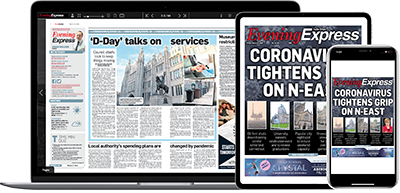 Help support quality local journalism … become a digital subscriber to the Evening Express
For as little as £5.99 a month you can access all of our content, including Premium articles.
Subscribe