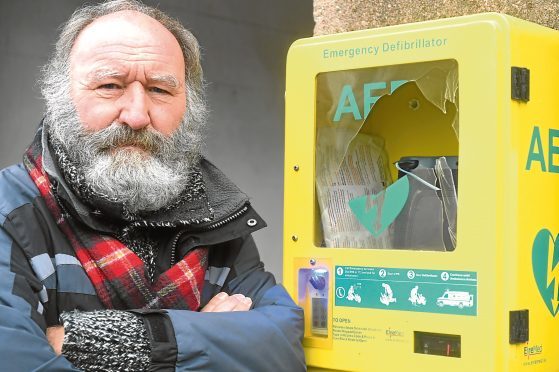 Vandals have put lives at risk by smashing up a vital medical device, a community campaigner said today.
Stonehaven and District Community Council (SDCC) chairman Phil Mills-Bishop spoke out after a defibrillator he helped install in Stonehaven's Market Square was damaged on Friday evening or Saturday morning.
The vandalised machine – which is now back in operation with its storage box repaired – was put in place last December in memory of Stonehaven paramedic Peter Trudgill, 43, who had been rescued from the sea by a police officer and two members of the public in 2014, but sadly died in hospital.
The equipment was donated to the town last year by Baker Hughes along with Peter's brother John.
Mr Mills-Bishop, who has been trained how to use the machines, said: "I am disgusted this attack has happened.
"The casing that was damaged cost £400 and the defibrillator itself cost £1,000.
"We will have to ask whether CCTV cameras need to be installed at Stonehaven's other outdoor defibrillator (at Stonehaven Harbour)."
He added had someone had a cardiac arrest while the machine was out of action they may not have been able to get the help they needed "and that risks lives".
Coastguard rescuers have joined police in appealing for help in tracking down those responsible.
A spokesman for HM Coastguard Angus and Mearns said: "We are saddened to report some mindless individual thought it was a great idea to vandalise the community life-saving defibrillator."
North-east Scotland MSP Lewis Macdonald said: "It is a very disappointing development. I urge anyone with information on the culprits to come forward."
Baker Hughes handed over cash to buy four defibrillators and the SDCC overcame several years of red tape to install them. Peter had worked with the Scottish Ambulance Service for 20 years and the service played a role in getting the defibrillators installed.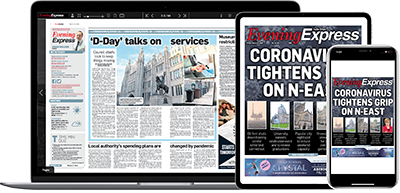 Help support quality local journalism … become a digital subscriber to the Evening Express
For as little as £5.99 a month you can access all of our content, including Premium articles.
Subscribe