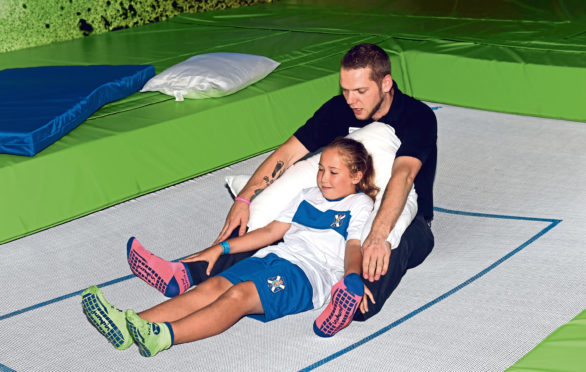 An Aberden trampoline park is to launch an innovative rebound therapy programme – to give people of all abilities the chance to take part in the activity.
Jump In Trampoline Park, in Tullos, has been piloting the scheme, with it to officially launch when the schools go back at the end of the month.
The idea came from duty manager Daniel Pacitti, who noticed that there was often children with disabilities coming in who would sit and watch siblings on the trampoline, but were not able to take part themselves, due to being, for example, in a wheelchair.
Rebound therapy allows those children to get involved in activities that otherwise may have been difficult or impossible for them.
Daniel said: "There's a lot of families that come in with an able-bodied child and a child in a wheelchair.
"We had a child in a couple of weeks back. We asked if he wanted to join in and do some rebound on the trampoline.
"It was the first time he'd been able to do something like that.
"It's something totally different. There's not a lot of facilities that offer something like that up here."
Each rebound therapy session will be different, dependent on the child's abilities, as some children will be more mobile than others.
It could include a child being laid on their back while being gently bounced, to having them crawl on the trampoline.
Jump In bosses added that the positive feedback they have received so far is phenomenal.
The sessions are run one-on-one with trained staff, and would suit a range of abilities.
It is also hoped that by getting children onto trampolines, it will help with physiotherapy aspects of care.
Daniel said: "It's a way of working through it, getting them to lay still and follow commands and get them on to their feet.
"It can be used as part of physiotherapy. It's a way of getting everyone on to a trampoline, and giving them a bit of confidence in themselves.
"A lot of them won't be able to stand on their own but by the end of their sessions with me they should be able to do more."
The sessions will run throughout term-time only to keep a routine for the children, who staff said will in turn associate it with part of their learning at school.
It will allow children to understand that the classes are serious learning and not just simply playtime.
Daniel said: "It launches when the kids go back to school.
"They can use it as part of their PE lessons at school, which many of them won't usually get to take part in because they are in a wheelchair.
"They'll be coming to me once a week and it'll go towards their schoolwork."
Anyone who is interested in their child taking part in rebound therapy should contact Jump In Trampoline Parks on Craigshaw Drive and ask for Daniel.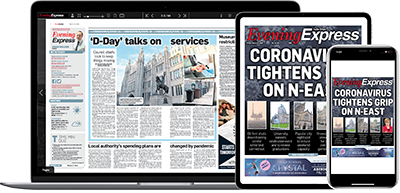 Help support quality local journalism … become a digital subscriber to the Evening Express
For as little as £5.99 a month you can access all of our content, including Premium articles.
Subscribe