A die-hard Dons fan has paid the ultimate tribute to his team – by getting the manager's face tattooed across his leg.
Neil Cameron had Aberdeen FC's crest tattooed on to his calf two years ago – and has now decided to step things up by having Derek McInnes grace a large part of his left leg.
The collage also includes an image of former Dons captain Russell Anderson – and the 32-year-old said he does not plan to stop there.
"I'm delighted with the design but I want to get the full leg done, up my thigh, with Willie Miller with the Scottish Premier Division trophy, Neil Simpson, Eoin Jess and a reference to the 1983 European Cup Winners' Cup and European Super Cup – then we'll see if there's any room left," said the manufacturing technician from Peterhead.
Pals of the Pittodrie South Stand season ticket-holder have reacted with a mix of amazement and caution.
He said: "I've always supported Aberdeen and I'm football daft.
"People I know have been really impressed and have said 'that's unbelievable'.
"Some tried to put me off from having Derek McInnes's face as they said 'what are you going to do if he goes somewhere else?'
"But then there was the carry on last season when he turned down Rangers, so hopefully he'll stay for a while now.
"He's the best manager we've had since Sir Alex Ferguson.
"I've been going to the games since I was young and we were finishing in the bottom six for a while, now we're top two for the last four seasons.
"I used to go to the games thinking 'we're going to get beat today' but now we're confident of winning.
"He's turned Pittodrie into a fortress again. Games are enjoyable again, whereas before it was a nightmare."
Neil's second passion is Manchester United.
On his right leg, Neil has inkings of United's Champions League winner Cristiano Ronaldo as well as three of the reds' Class of 92 players – David Beckham, Paul Scholes and Ryan Giggs.
The man behind the magic is 26-year-old tattoo artist Simon Smith, who has worked at Yarson Tattoo Studio on George Street, Aberdeen, for four years.
Neil said: "Simon is a great tattoo artist and choosing him was a no brainer.
"The realism is unbelievable. It looks like a photograph.
"On the United side, I'm going to add Roy Keane, Eric Cantona and Sir Alex, as well as a reference to the Munich Air Disaster and maybe the Champions League and English Premier League."
Simon said: "Neil is by far my most easy-going customer.
"He sits like a rock and has never complained about the pain.
"Most of the requests I get are black and grey realism.
"Colour realism is new to me. It can be energy sapping.
"You feel it more when they go home, but not as much when you're doing it. It's very fun to do."
The studio's manager Kyle Petrie added: "Simon's work is impressive and we have the same standard coming out from all our tattoo artists.
"Simon comes up with custom designs working from rough ideas.
"The eye to detail is fantastic."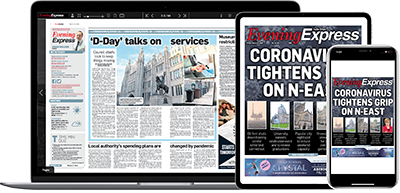 Help support quality local journalism … become a digital subscriber to the Evening Express
For as little as £5.99 a month you can access all of our content, including Premium articles.
Subscribe