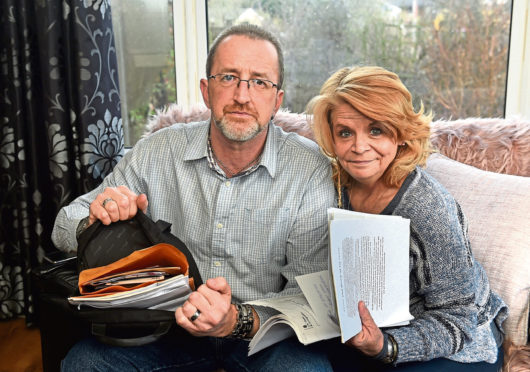 An Aberdeen taxi driver today pleaded with the Home Office to let his wife stay in the UK after being caught up in "heartbreaking" red tape.
Keith Webster, 49, and his wife Susan, 55, from Arizona, have had her visa request to stay in the UK rejected twice.
The couple say they're in "the fight of our lives" to secure residency for Susan, who has already sold her home in the United States and has given up her job as a hospice worker.
The pair, from Marywell near Portlethen, who met online in March 2016 and married in April 2018 in Arizona, are in limbo with Susan's current six-month visitor's visa due to run out in June.
They have now enlisted the help of their MP Andrew Bowie, in the hope he can help cut through Home Office red tape.
He has now written to Home Secretary Sajid Javid about getting a resolution to their case.
Their problems started in 2017, when Susan and Keith applied for the wrong visa, thinking they needed a family permit instead of a settlement visa.
When they discovered their mistake and applied for the settlement visa, it too was denied.
Keith believes they have spent almost £7,000 trying to resolve the situation.
Keith said: "It is heartbreaking. The last time Susan was home she was in tears every day. It was making us both ill. We just don't know what will happen now.
"Susan came back to the UK, three days before Christmas which means she'll have to leave sometime in June for a month.
"I don't know what we are going to do.
"I'm really hoping we get a call to go down to the Home Office and we can just be dealt with there and then."
Susan, who gave up her job in Arizona to join Keith in the UK, sleeps on family members' sofas when she returns to the US.
She said: "I sold my home to come over the first time so while I waited for the final decision I was staying on the good graces and couches of my adult children.
"Keith and I just want to live the simple lifestyle we have imagined for ourselves.
"We have spent thousands of dollars and thousands of hours on immigration only to be turned down because of lack of evidence or validity of our relationship.
"My husband is self-employed as a taxi driver. He has worked non-stop week-in and week-out to make sure our financial books are perfect and to keep us afloat as we take on the fight of our lives.
"We have chosen to fight for our life together and whatever that means or whatever that looks like, we are in, because the alternative is just not an option."
---
---
Mr Bowie, Scottish Conservative MP for West Aberdeenshire and Kincardine, is hoping his intervention will cut through red tape and help get Susan a visa.
He said: "I have been working with the Home Office and the Websters about reconsideration of Susan's settlement visa.
"Civil servants have to apply the same tests for applications, which are often quite complex. They are understandably frustrated. I have found the Home Office to be very helpful in similar cases across my constituency."
A Home Office spokesperson said: "All applications are considered on their individual merits, on the basis of the evidence provided and in line with the immigration rules."