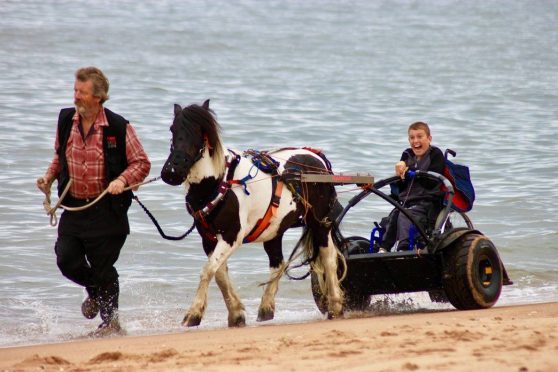 More than a dozen wheelchair users have taken to a North-east beach – thanks to a horse and specially-designed carriage.
Charity Pony Axe S took 16 people across Balmedie beach in the off-road contraption pulled by its horse Obama.
The organisation allows people in wheelchairs the opportunity to go where they might otherwise not be able to.
One of those to take to the shoreline was 12-year-old Jake Smith.
The youngster, from the Buchan area, normally finds it impossible to go on the beach due to the sand causing problems for his wheelchair.
Despite living close to the beach, the trip was the first time Jack had been for a number of years.
Jake's mum Claire Smith said: "He absolutely loved it. He loves horses anyway so when he found out he was getting to go he was beside himself.
"He woke up at 5am because he was so excited."
Simon Mulholland, the man behind the specially-designed carriage, knows how difficult beaches are to access for people in wheelchairs and understands safety has to be his top priority.
He said it was vital to ensure all his vehicles offered complete safety, with the particular needs of his clients in mind.
He said: "Beaches, for wheelchairs, are a no-go area. Or to be precise, were a no go area."
But Simon admits Obama – given his name because he was adopted on the same month that Barack Obama was inaugurated as president – is getting older and hopes to get more horses involved with the charity.
Simon is planning to permanently relocate his organisation to Scotland and will be returning to the North-east again next month.
Charity PAMIS (promoting a more inclusive society ) teamed up with Pony Axe S to give the rides to children at Balmedie beach – as well as four other Scottish shorelines.
Director of Grampian PAMIS Amy Anderson said: "Seeing the delighted and exhilarated expressions on their faces was very moving – it was the best day of my working life."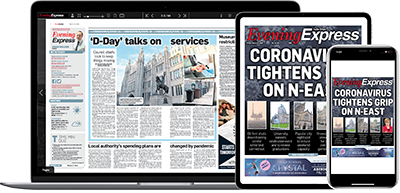 Help support quality local journalism … become a digital subscriber to the Evening Express
For as little as £5.99 a month you can access all of our content, including Premium articles.
Subscribe