A former special forces soldier from Aberdeen has smashed two world records on an epic cycling adventure on the other side of the world.
Dean Stott, from Peterculter, who is a pal and former military training partner of Prince Harry, took on the challenge of becoming the fastest man to travel 13,670 miles across the Pan American Highway from Argentina to Alaska.
The route, which is the equivalent of cycling from Aberdeen to Bangkok and back, took Dean 99 days – and he broke the previous record by 18 days.
He also broke the world record for the fastest man to cycle the length of South America – and did it all to head back to the UK in time for Harry's wedding on Saturday.
Dean is on a quest to raise £1 million to be shared between 12 mental-health charities known collectively as Heads Together.
He has so far raised £485,000 from sponsorship and donations.
Speaking at the finish line in Prudhoe Bay, Alaska, Dean said: "This journey was one of the hardest things I have ever done.
"After over two years of training, I'm delighted to have not only finished but broken the Guinness World Record.
"For now, I'm off to put my feet up and spend some time with my wife Alana and two children (Molly, 6 and Tommy, 1) who I've missed incredibly."
Dean met Prince Harry when they were partnered during military training and had to leave the military when a parachuting injury left him unable to run.
Afterwards, Dean took up cycling – and it was a chat with Harry that inspired him to take on the Pan American Highway challenge.
The quest began in February at the southern tip of South America in Ushuaia, Argentina, and took in 13 countries.
Along the way, Dean battled harsh winds, multiple collisions, bouts of food poisoning – and even a run-in with a polar bear.
He said: "Thanks to people like Prince Harry and the Heads Together charity partners, mental health is being spoken about much more and I hope by doing this, I have been able to inspire even more people to speak out and get the help they need."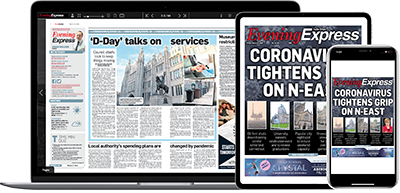 Help support quality local journalism … become a digital subscriber to the Evening Express
For as little as £5.99 a month you can access all of our content, including Premium articles.
Subscribe