Anne Kesterton has been married to her husband Ian for 40 years, but she never got the chance to have a white wedding – until yesterday.
Their big day in 1977 was held at the registrar's office in Turriff, with a small celebration in the nearby Fife Arms Hotel.
Money was so tight they couldn't even afford a white wedding dress for Anne.
So when it was time for the family to celebrate their Ruby Wedding anniversary at the weekend, their daughters decided to throw a surprise vow renewal – complete with a white dress.
Veronica Largue, 34, is the youngest of their three children, said: "We were trying to think of something special and I just threw the idea out there – I never thought it would happen."
With the help of sisters Lynette Stephen, 36, and Teresa Ritchie, 39, they started pulling the event together.
They told their parents they would be going to Banff for a posh meal with all the family, so they needed to dress up nice and smart.
The secret was well-kept, so neither mum nor dad suspected a thing – not even when Ian was driven to the same hotel he celebrated his wedding at four decades before.
The 70-year-old retired road worker said: "We thought we were going for a meal, we were supposed to be going to Banff.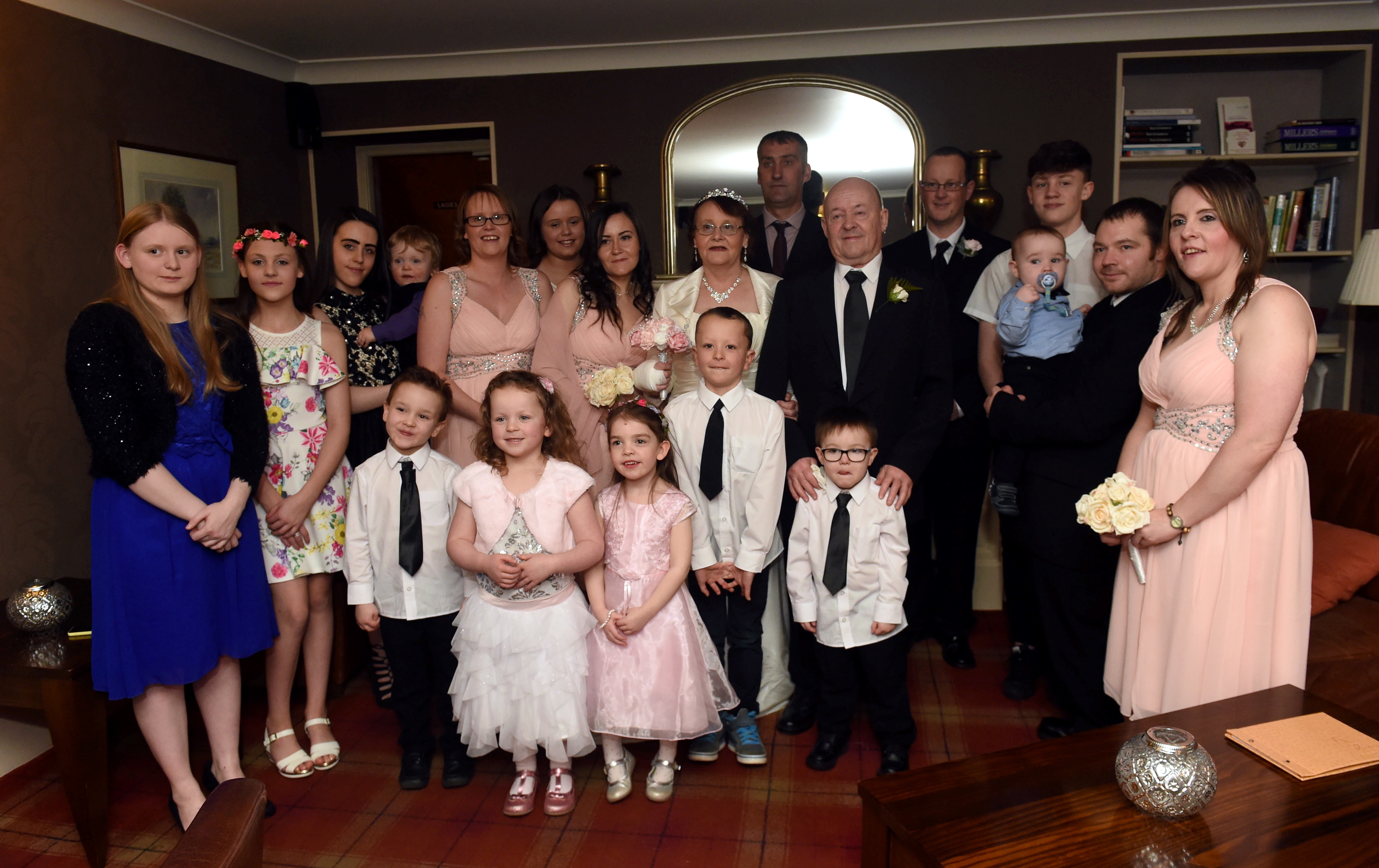 "Then they said I have to get a suit on for a meal and that.
"We were driving past and someone just said shall we go to the hotel for a drink."
Meanwhile Anne was having her make-up done at her home in Turriff.
But there was also a present waiting for her – the white dress she had always wanted.
She said: "I couldn't believe, I still can't believe it.
"I've seen my three daughters all married in a white dress and I always thought that should have been me too.
"You should've seen my reaction when they said I could go and get dressed up."
After some persuasion she agreed to the occasion and they set off for the hotel, where Ian was waiting in their wedding-style room.
Anne, 66, walked in with her three daughters in bridesmaid dresses.
The room was filled with three generations of family and friends.
Walls were decorated with fairy lights and Ruby Wedding posters and balloons.
As she walked up the aisle to Here Comes The Bride, Ian started to well up and was dabbing tears away from his face.
He added: "As you can see I'm very emotional, only because she wanted to get married in a white dress."
And there was one more surprise for them too – Veronica would be reading the renewal.
She said: "Excuse me I'm a bit nervous, I don't normally do stuff like this."
She asked them both to agree to love, honour and cherish each other in sickness and in health, reaffirming their love for each other after 40 years of marriage.
After both saying "I do" they signed on the dotted line, making it official.
The room was filled with applause, cheers and cameras snapping the couple's special moment.
And their secret to a long marriage? Ian said: "She has held us together, it's her that's pulled things through more than me.
"She's a wonderful woman – I'm surprised how young my wife looks today."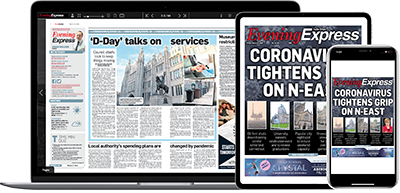 Help support quality local journalism … become a digital subscriber to the Evening Express
For as little as £5.99 a month you can access all of our content, including Premium articles.
Subscribe