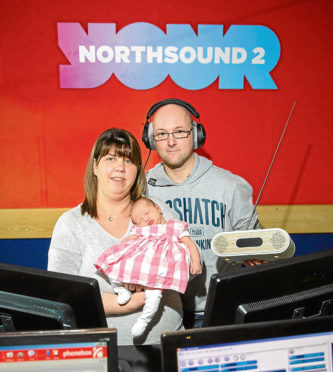 A new dad called a radio station to find out which song was playing when his daughter was born – only to discover it was an advert for the digital switch over.
Dave McNeill was probably expecting a Madonna hit or Bon Jovi classic, but was surprised to hear Northsound 2 was playing an advert when baby Sophie entered the world at 10.58pm on March 17.
Northsound 2 will be the first station in Scotland to make the switch to digital from analogue on Tuesday.
And to celebrate, the station invited baby Sophie and her proud parents Amanda, 42, and Dave, 38, from Summerhill, to come in for a tour of the studio.
The family spent time with Northsound 1 breakfast presenters Jeff Diack and Lauren Mitchell and Northsound 2 Home Run presenter Gina McKie.
Sophie was also presented with her first DAB radio from VQ and a PURE car set so the family can listen on the go.
Dave said: "I've been a Northsound listener for years so it was great to have the opportunity to visit the station, meet the presenters, and as one of Sophie's first outings, it will be a day we'll never forget.
"We really appreciate the effort from all the staff and we look forward to telling Sophie the story behind her DAB radio when she's older. We will be using the radio to continue to listen to Northsound 2 on digital."
John Slater, content director at Northsound, said: "The switch to digital for Northsound 2 marks an exciting development in how we listen to radio in the North-east and we want to include as many listeners as possible in that journey.
"We were thrilled to have Sophie and her family along to the station and hope they will enjoy listening to their new DAB radio for years to come."
The "Northsound 2 – we're going digital!" campaign was launched earlier this month to raise awareness of the planned switchover.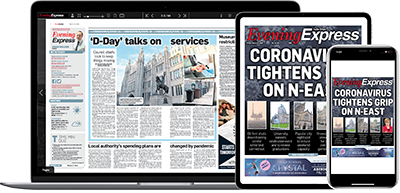 Help support quality local journalism … become a digital subscriber to the Evening Express
For as little as £5.99 a month you can access all of our content, including Premium articles.
Subscribe