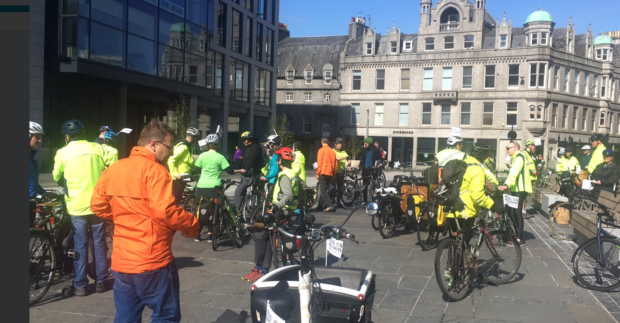 Around 100 cyclists pedalled the streets of Aberdeen in protest at the city "falling behind" on delivering cycle paths.
The Aberdeen Cycle Forum (ACF) led riders through the city centre streets yesterday,
relying on safety in numbers to tackle roads which the group said are usually too daunting for all but the bravest cyclists.
Scores of cyclists, including children as young as six, carried out laps of the city centre for around an hour to highlight the need for segregated cycling infrastructure in the city.
Campaigners are pushing the council to create a segregated cycle path on Union Street, with plans in the pipeline to eventually look at creating another on the city's King Street.
Rachel Martin, a volunteer with the ACF, said: "It went really well. We had a great turnout this year with around 100 people.
"For the first time ever, we saw children cycling in Aberdeen city centre on roads that are typically unsafe for a child on a bike.
"Everywhere around Europe and even Scotland there are segregated cycle paths going in. We don't have anything like that.
"Aberdeen is falling behind and we'd like to see that change."
Campaigners have complained the city's roads are polluted and "choked" with cars, and that protected cycle paths are "non-existent" in the city centre.
Along with the introduction of segregated cycle paths on some of the city's busiest streets, the cycle forum has also called for 10% of the council budget to be spent on active travel.
Council chiefs agreed last year to investigate the request made by Rachel to set up a segregated route on Union Street and a report was due before councillors in the "coming months".
She said: "The last time I inquired a few months ago the council said they would have an update in the second quarter of the year.
"No decision has been made but it's something I'm following up on."
---
---
The 1.6km event saw cyclists start off at Marischal College then on to Upperkirkgate, Rosemount Viaduct, Union Terrace, Union Street and Broad Street.
The protest was part of a full weekend of cycling action co-ordinated by Pedal on Parliament (Pop), which is campaigning to make Scotland a cycle-friendly country.
Rachel said: "If you boost levels of cycling, and the only way to do that is to have the infrastructure in place, then you'll lower pollution, have less traffic, lower costs of road
maintenance and a healthier population.
"Once you have got cycling infrastructure you can see children cycling to school.
"Most traffic at mornings and evenings is parents driving children to school. But you can't blame them because it's just not safe for children to ride themselves."
The cycle forum has vowed to continue to put pressure on the council to act.
Rachel said: "We have also been working on designs for a segregated cycle path on King Street and that could go all the way to the Bridge of Don and then onto Market Street.
"That could provide a great corridor in Aberdeen to connect the train station to the Bridge of Don."
Ross Grant, vice-convener of the city council's city growth and resources committee, said officers have been "working hard" to prepare key strategies for active travel, which would be presented to councillors for consideration in the "coming months".
He added: "While this has been developing, the council has continued to develop stronger linkages with key partners like Sustrans which will play an important role in developing and delivering cycling infrastructure projects that work for the city."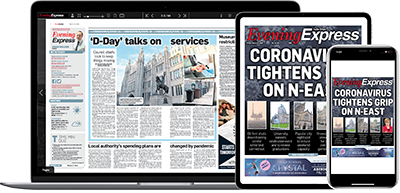 Help support quality local journalism … become a digital subscriber to the Evening Express
For as little as £5.99 a month you can access all of our content, including Premium articles.
Subscribe