Cyclists descended on a Aberdeen City Council's headquarters to protest over a lack of bike infrastructure.
Dozens of men, women and children gathered outside Marischal College yesterday with their bicycles and banners.
Organised by Aberdeen Cycle Forum, the group has taken issue with the provisions for cyclists on the new AWPR.
Ben Butler, 28, was among the protesters and said the focus on cars in the area is "unappealing" for cyclists.
He said: "The main reason we're here is the lack of investment in cycling in Aberdeen.
"The ultimate reason for the demo is because of the AWPR and that cycling event they tried to organise which was a kick in the teeth for cyclists."
The GoNorthEast Road Festival, attended by 14,000 people over the weekend, allowed cyclists a chance to try out a section of the AWPR close to the River Dee before it opens.
Luke Beesley, 33, added: "It's almost like saying 'here's a beautiful bit of infrastructure that you can't use, except for today'."
Protesters held signs such as "I pay tax for roads", "nice new road, now invest in cycling. It's more sustainable", and "bike paths return more to the community than they cost to build".
Rachel Martin, a member of Aberdeen Cycle Forum, said: "There's a lot of frustration in the cycling community at the moment."
A spokesman for Transport Scotland previously said: "The project will improve air quality
and reduce traffic volume in Aberdeen city, making pedestrian and cycle travel around Aberdeen easier.
"Traffic on the existing A90 between Balmedie and Tipperty, for instance, will reduce significantly – by 97% – ensuring this route is safer for cyclists."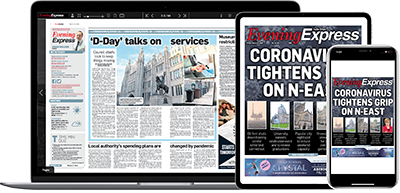 Help support quality local journalism … become a digital subscriber to the Evening Express
For as little as £5.99 a month you can access all of our content, including Premium articles.
Subscribe