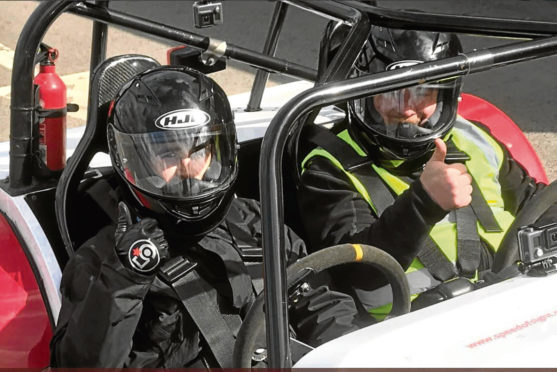 A paralympic and Commonwealth Games cycling hero has taken to a different track for his first experience driving a car.
Forsaking his usual velodrome, Neil Fachie, from Aberdeen, was shown the ropes in a sports car during a visit to a charity in Manchester.
He was given an experience with charity Speed of Sight by his wife, fellow cycling star Lora Fachie, for his birthday.
The charity aims to give people with disabilities the chance to drive a car, when they may not legally be allowed to.
Partially sighted Neil, who brought home two gold medals at the Commonwealth Games in Australia last month, was given a quick course in driving from one of the instructors at the charity, before being let loose on a makeshift circuit.
Neil said: "It's one of those things that I've always hinted that I would like to do, but I've always been quite reluctant to.
"One of the biggest bugbears about my disability is the fact that I can't drive, it's always been a bit of an irritation, so I was put off doing it, but now I'm much more comfortable driving."
‪Incredible day driving for the first time! Thank you Speed of Sight for taking me out in the Caterham. What a fantastic…

Posted by Neil Fachie on Thursday, 26 April 2018
Neil was keen to praise the work that Speed of Sight does.
He said: "It's incredible. The people that were there on the day who were given the chance to experience the car had all different disabilities.
"They have a really good team, any nerves that I had went straight out the window thanks to them.
"It's really tremendous work that they do."
Mike Newman, the co-founder of the charity, who is himself blind, admitted he wasn't initially sure who Neil and Lora were when they arrived.
He said: "They're quite an unassuming couple, and it wasn't until we were chatting to them that we found out what an amazing couple they are, and their success in the Olympics and the Commonwealth Games.
"It was very exciting."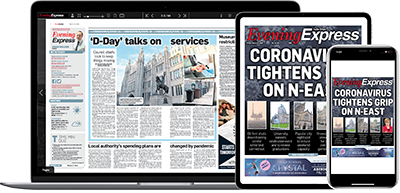 Help support quality local journalism … become a digital subscriber to the Evening Express
For as little as £5.99 a month you can access all of our content, including Premium articles.
Subscribe