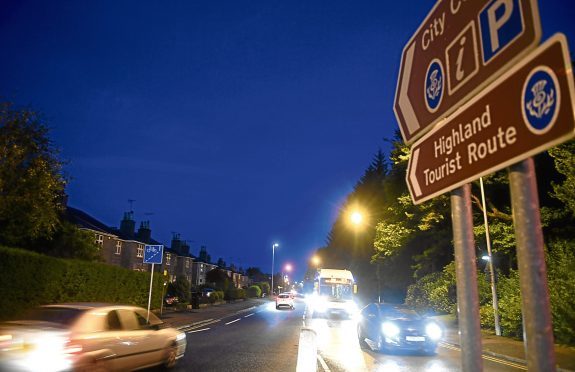 Creating a new bus lane or removing a roundabout are among the options still on the table in a bid to help improve traffic flow on a busy Aberdeen road.
The North East Transport Partnership (Nestrans) and Local Authority Bus Operators Forum (LABOF) commissioned civil engineering firm Aecom to write a report that looked at bus movements along the Queen's Road corridor – between Anderson Drive and Groats Road – with the aim of improving bus journey times.
The transport body had initially recommended the introduction of a westbound bus lane on Queen's Road alongside restrictions on right turns to Hazledene Road.
Its report found that this option would see bus services making savings of three-and-a-half minutes in the morning and three minutes in the afternoon, as well as providing "much improved consistency".
But at a meeting of the Nestrans board yesterday, director Derick Murray said recommending an option could compromise councillors on the board when the matter comes before the city council at a later stage.
He said: "We did take some legal advice and we might have overstepped the mark a bit.
"I'm suggesting that we simply follow the report as it comes, but without a recommendation."
He added that this would allow the council to consider the issue "without compromising members".
The report highlighted during the morning peak period the majority of the queuing traffic along the corridor was found to be on the westbound approach to the King's Gate/Hazlehead Park roundabout and extended back to the Hill of Rubislaw traffic signals.
The signals at the Provost Graham junction, just beyond the roundabout, are also frequently activated during the morning peak – often causing traffic to block back through the roundabout, according to the report.
Queueing on the approach to King's Gate was also found to impact the roundabout, causing significant delays and queues.
The board unanimously agreed to refer the findings of the study to the city council for further consideration – but without stating a recommended option.
Other ideas still on the table include removing the King's Gate/Hazlehead Park roundabout and replacing it with a signalised crossroads, adding an extra lane running eastbound and exiting from the King's Gate junction towards Springfield Road.
Another option would see a combination of a westbound bus lane along with a signalised crossroads.
Board member and councillor Jennifer Stewart said the report had failed to say banning right turns on to Hazledene Road would have an impact on local residents.
Cllr Stewart, who represents Hazlehead, Queen's Cross and Countesswells, said: "The people that are going to suffer will be local people and I would be concerned about that."
Cllr Stewart added that she felt members of the board should be allowed to express an opinion before the report went to the council.
She said: "We've written to the Scottish Government to change the standing orders so I can express my view at the committee of Nestrans.
"That needs to come quickly or what is the point of us being on the board if we can't have an opinion?"