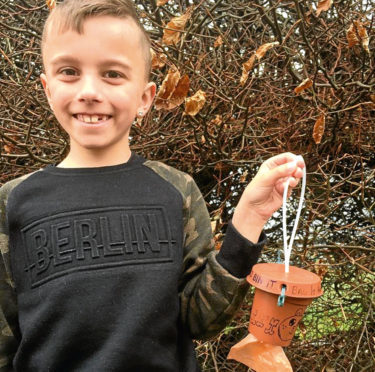 An Aberdeen community is encouraging children to use their imagination and help to combat dog fouling with a quirky competition.
The contest launched by Garthdee Community Council and the Inchgarth Community Centre sees youngsters design and produce their own holders for dog mess bags.
In order to enter, the children need to make the holder, hang it somewhere in the area and fill their holder with bags.
They should then take a photo of their creation and email it to Garthdee Community Council with their name and parent's phone number.
Paul O'Connor, chairman of Garthdee Community Council, said: "The launch of the Bag It and Bin It campaign has already seen some tremendous designs and efforts by the children.
"Adults are making positive comments and, indeed, using the free bags already.
"With every new bag holder put up by the children, we take a massive step in educating and highlighting an issue that has been a long-term scourge of our play spaces, pavements, grass areas and community as a whole.
"The children of Garthdee are really beginning to take ownership of this campaign," he added.
"They are setting a great example to the wider community where the message to all who allow their dogs to mess without binning it, is that Garthdee residents are no longer accepting this, and together we can keep our community clean and safe for the children.
"The youngsters have shown a tremendous attitude with the campaign now running but we want all children in the community to get involved. We have great prizes for the winners."
Parents must photograph their child's creation and send it to garthdeecc@gmail.com with details of where it is hanging, the child's name and the parent's phone number.
The overall winner will be awarded £100 in vouchers, second place will be given £50 in vouchers and there are £25 vouchers for third spot.