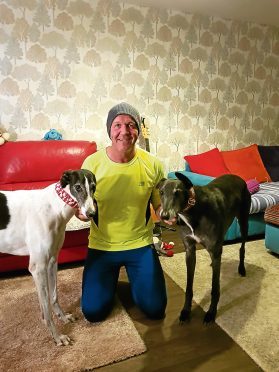 A man who took on a 155km running challenge for the month of December has smashed his fundraising target.
Craig Bowden, from Huntly, ran 5km every day last month in order to raise funds for the Aberdeenshire base of Give a Greyhound a Home.
His original target was £400, however at the end of the 31-day challenge, he raised a whopping £1,030 for the charity.
The 55-year-old Scottish Fire and Rescue Service training instructor and on-call firefighter, owns two rescue greyhounds from the charity.
He was raising cash in order to help support the work the charity does.
Craig said: "Thank you to everyone who donated to my 5k a day in December for Give a Greyhound a home. You helped me raise £1,030 for GAGAH.
"I will be honest and say this was not easy, especially due to the weather conditions and of course my age, but I'm glad I did it."